I am thrilled to be able to do a guest blog post for Anna at LUSH Nails.
"LUSHNAILS – nail lovers unite"
Anna is a nail enthusiast like us. But she is from "across the pond" as they say here in North America. Anna lives in Liverpool, UK.
I did struggle with what to write for her audience. Finally, I decided that since I have recently been doing so much nail art (and having so much fun with it) that I would write about some of the things that I have learned.
Artists who work on any platform or canvas have their own tricks and talents that they like to use when creating their art.
I have found a couple that I thought I could share with all you nail art enthusiasts.
There are many mediums that people use to do nail art. One of my favorites is acrylic paint.
Acrylic paints are one of the most forgiving mediums that I have worked with.
Unless you are painting acrylic on top of acrylic, you can fix any mistake you make with a simple swipe of a good art brush dipped in alcohol.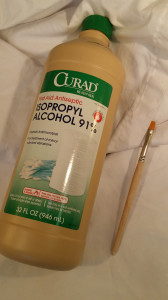 My next favorite trick is Matte Top Coat.
I have found that if I use Matte Top coat to place gems, rhinestones or any of the wonderful nail jewels on my nails, it has a couple of nice advantages.
The first one is that there isn't a huge build up of clear polish to make the art impossible to dry. You can just dot on the matte top coat right where you need it and place your jewel. It dries quickly without any clumpy mess. Plus the matte finish lets you see the art work in a true form.
Here is a example of this technique
I am making a 1/2 moon with a glitter polish and "toppers" in aqua blue to outline the 1/2 moon.
Here is a pic of the nail waiting.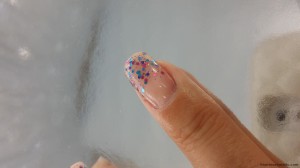 A pic with the toppers on tacky matte top coat.
And the finished product!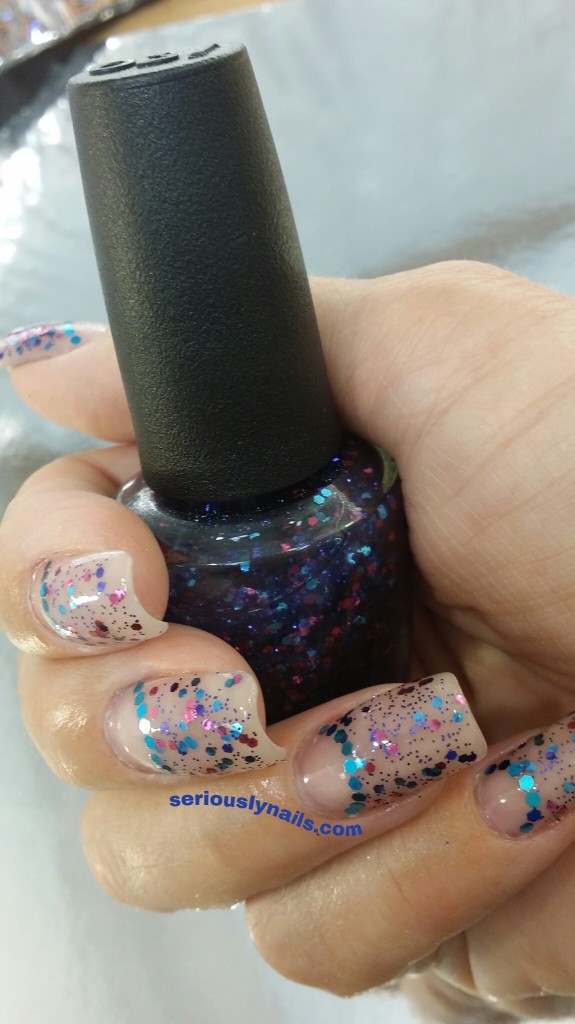 As you can see, using the matte top coat allows you to place the gems where you want and it leaves you without a thick coat of clear or glue so your art shines through.
So there you have it. My first guest post. Thank you Anna for making it all happen!
Like Anna say's "Nail Lovers Unite"
Visit Anna at www.lushnails.wordpress.com or on facebook at LUSH-Nails