Press Sample
Simply love the name! Girly Bits, Girly Bits!!!!
A Canadian cosmetic company founded in 2011, this brand is proud to be cruelty free with their on trend and unique products. This one was given to me at Cosmoprof Las Vegas.
The color is called "Accidental PPV". As you can see it is a lovely holographic silver that I think would be perfect for wedding nails!
Have a look.
I also like the brush in this bottle alot. It was big enough to pick up the perfect amount of polish for my nails. Although I prefer a more rounded tip, I love the size of the brush itself.
Girly Bits Cosmetics are available online at 9 global sites. Including their own site at http://www.girlybitscosmetics.com/
You can also find the super cool Uber Mat there to add to your order!
(And for us American folks, the site automatically converts the Canadian $ price to our American $)
I like this polish, I like that they are Canadian (yes, I am Canadian!) and I like their site too.
One last pic to see if you think it is suitable for a wedding. What do you think?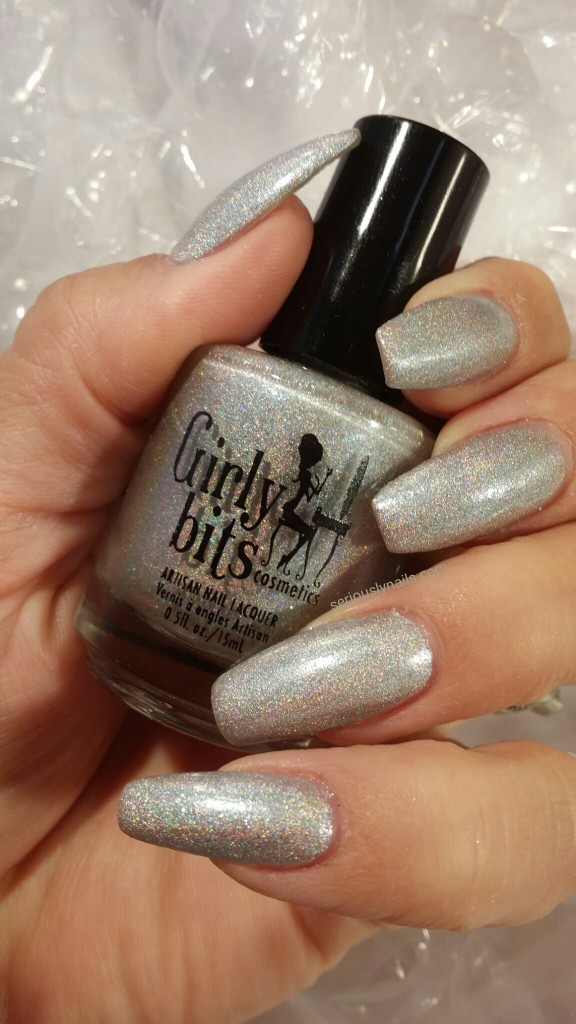 I think it's beautiful!