One of the biggest complaints that I have heard about nail lacquer is when it gets thick.
Gals who love a color and use it a lot complain that as time goes on, the lacquer gets thicker in the bottle and doesn't dry as fast. Sometimes, leaving them in a lurch with dings and "rub outs" on their lacquered digits!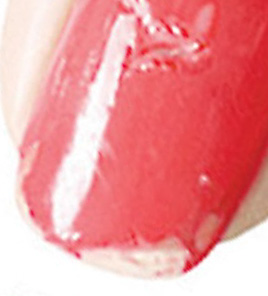 Some of us who love and covet certain colors don't want to have to throw away our favorites.
Solvents in lacquer are what keep it from drying too quickly. This allows us to apply the color in a timely fashion without it hardening on our nails as we are polishing!
When we open a bottle of lacquer, it is being exposed to the air. This lets the process of evaporation begin.
There is really quite a simple fix for thickening and hardening nail lacquer.
Professional Nail Technicians who have a good amount of money invested in lacquers know the trick to keeping them thin and spreadable.
Again, its the solvents in lacquer are what keep them useable. In other words, the solvents keep lacquer at the right consistency to apply quickly and that allows them to dry properly.
One thing we don't think about after we have painted our fingernails, is the condition of the bottle. If the bottle has polish around the lip of it, the lid will not seal properly and the lacquer will continue to be exposed to the air.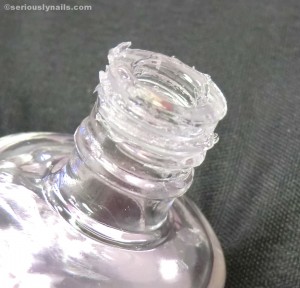 Even though it is a small amount, over time, the solvents disappear and the lacquer thickens up.
Nail technicians know that to keep their investments in tip top shape, they have to keep the neck of the bottle clean and free of lacquer. The simple act of wiping the neck of the bottle with a lint free wipe with some polish remover on it will do the trick.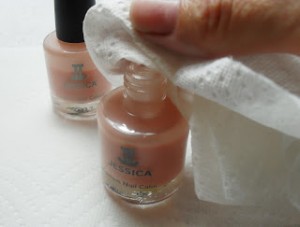 They may do this after every service or once a week. What ever time frame they use, it keeps the lacquer in a very usable state.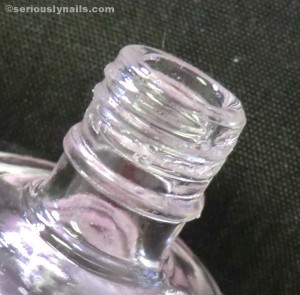 Lacquer colors that have a large amount pigment are susceptible to thickening even quicker that ones with less pigment. Stark white's such as OPI's "Alpine Snow" is a example of this.
This color is widely used for french manicures, which requires more precision and takes a little longer, allowing more air into the bottle.
So for this reason, it is a great investment (and a very inexpensive one) to have a bottle of Lacquer Thinner on hand. There are several different brands, but the one I use is from OPI.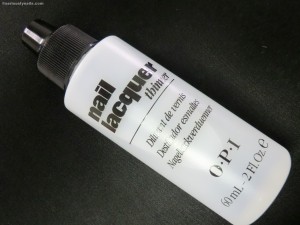 It contains the proper amounts of both ethyl and butyl acetate (the solvents that keep lacquer, well, solvent!) to revive your thick and gooey nail colors.
Simply add a few drops of the thinner to your bottle, roll in the palm of your hands to incorporate well and your ready to polish without having to fight a thick bottle of lacquer. If you lacquer is still thick, just add a few more drops, roll again, and check it out.
I would caution you from using too much at once. It's easy to add more but a lot harder to try and take it away.
A simple solution to a everyday problem.
So nice, especially when you are a busy nail technician. Nothing worse than working with products or tools that aren't up to snuff!