Most hobbyist and definitely most all nail technicians have done work using crystals or even Swarovski crystals to do nail art.
If you are at all clumsy like me, you need all the help you can get in placing the stone in the design.
I found the Crystal Katana from Crystal Ninja, Kellie DeFries, works the BEST for me.
Now here is one of the cool parts. I met Kellie at IBS Las Vegas, and this is one great lady. She is very creative and super precise in her work. She actually bling-ed a elevator in London! See it happen at this link! http://www.crystalninja.com/blog/crystal-ninja-goes-to-london/
The whole time we chatted, she was telling me about other people doing incredible work with crystals as well. This picture is with Kellie and April Renee. The out fit she is wearing is made of Kevlar (a racing suit I believe) and she actually washes it with Palmolive and the hose outside. Then hangs it to dry. This lady is seriously about having her crystals stay stuck!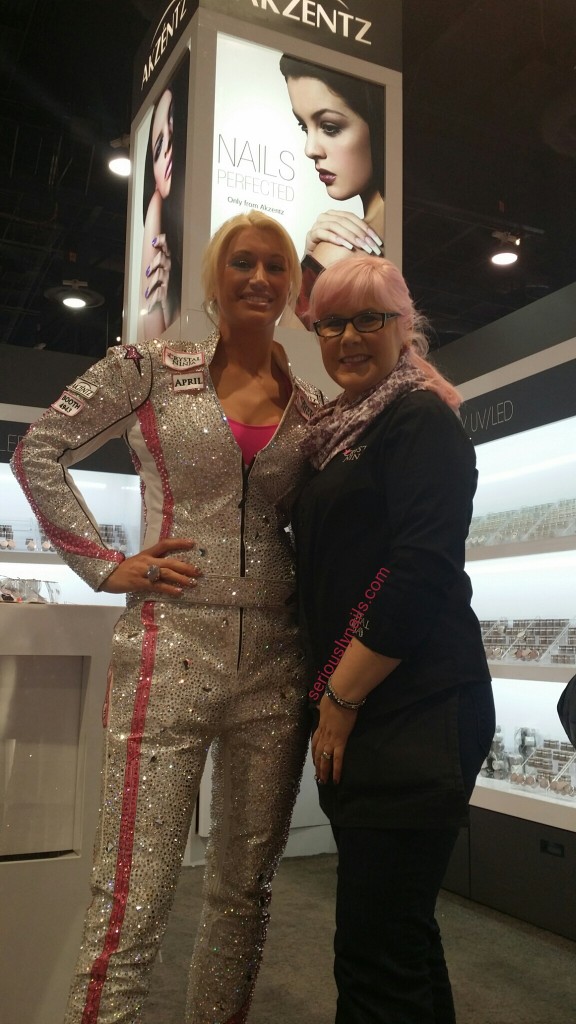 The second cool part about this story is that Kellie has decided to bling a Porche Speedster! Yup, a real car.
And she is doing it to get into the Guiness World Book of Records. By completely covering this replica Porsche with Swarovski Crystals, Kellie suggests that the value will be around $120,000.00 This price tag includes the cost of the car, crystals, and hours to complete!
Here's wishing Kellie all the best in her endeavor that she hopes to have wrapped up within 90 days (She started on Sept 1).
One more thing is that if you live in the San Diego area and have a spare 4 hours, you could help her by witnessing her do her work. Here is the link to sign up for a slot to watch the Crystal Ninja work on this world record feat. By doing so you get gifted with a Swarovski goodie bag!!! www.styleseat.com/crystalninja
And here is her website where you can find all the tools, crystals and glues that she is using in this adventure! http://www.crystalninja.com/