When I was at Cosmoprof North America recently, I met the folks behind Nordic Care.

Nordic Care is a family owned and operated skin care company from Sweden who specializes in hand, foot and body care formulated with an exclusive blend of herbal extracts, along with moisturizing vitamins and natural botanical oils.

I was given sample of the hand cream, foot cream and a sample of the new Night Time Foot Oil! I have to say the only product I have seriously tried is the Night Time Foot Oil (I promise I will try the others asap) but this in now my new favorite product. The scent alone is incredible but here is the kicker. The product actually does what it says it does.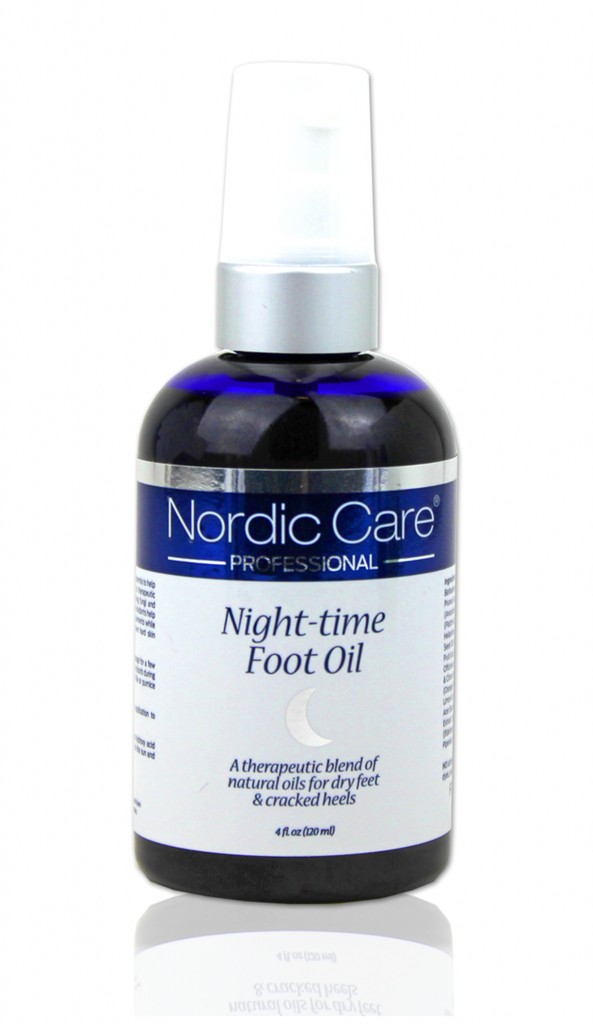 Here is a quote from Marketing & Sales Director, Michael at Nordic Care.
Nordic Care is proud to introduce their newest product to help combat dry and cracked skin. Nordic Care Night-time Foot Oil is developed using a combination of 100% natural oils and fruit acids that are high in antioxidants, anti-inflammatory and cell-rejuvenating properties. 

Using Therapeutic oils like Almond, Aloe Vera and Patchouli it aids in reducing inflammation, killing Fungi and helps provide energy for the growth of healthy skin. The combination of AHA Acids helps loosen hard skin while

Coconut, Avocado and Olive Oil with its large contains of Vitamin-E and Phytosterols, moisturizes, softens  and protects the skin from damaging environmental elements. 

Using the antimicrobial benefits of Elderberry makes this product free of artificial preservatives and no dyes, no phthalates and no artificial fragrances. Peppermint and Patchouli Essential oils give it an herbal and clean scent. Available in a 4 oz. size pump bottle, suggested retail: $38.00
The other wonderful thing about the oil is that it is not super oily. It rubs into your feet rather quickly. So even though it is suggested to apply the oil, then wear socks to bed, I found that it was not necessary. (Thank goodness cause I can't sleep with socks on! lol)
I honestly believe it is the Swedish botanicals that make Nordic Care such a great product!

With 15 years in the industry, the Nordic Care family feels so confident in their products that they offer 100% satisfaction guarantee! You can't beat that!
Find your new favorite skin care product from Nordic at http://www.noridiccare.com