What would New Years celebrations be without New Years Nail Art?
I think of shiny lights, champagne and a kiss at midnight!
So this is what I came up with. I started with "Haven't the foggiest" by OPI as the base color.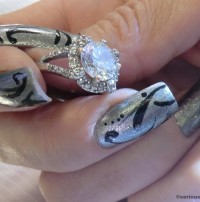 Then with a black "Art Club" lacquer with a stripping brush as the brush added the swirls.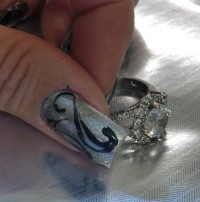 I thin added splashes of silver sparkle by using Sinful Colors "Queen of Beauty". I didn't use it on the whole nail. Only where I wanted a little extra bling.
Not like the ring I'm holding. Holy bling! Thanks for lending it to me for the shoot Jackie!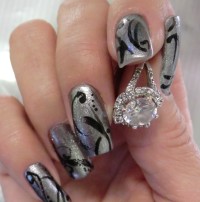 Once they dried, I applied OPI Top Coat. Voila!
Now I just have to wait for the kiss at midnight!