Well, Christmas is still happening here in Las Vegas! No, actually I just received my third Black Box from Cult Cosmetics today.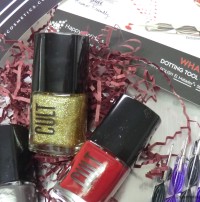 I think I must have signed up at the wrong time because to me the colors like very Christmas-y! Oh well, it is always fun to try new colors. And I got some fun dotting tools with this one.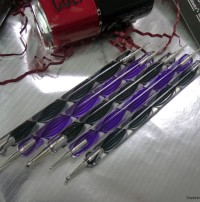 I received 5 of them in this months box. All different sized balls at the end to get different effects.
I also like the design in the tool itself. Kind of whimsical.
The colors, like I said look Christmas like to me, but I will see what I can do with them for more relevant nail art.
The colors are "El Matador", a creamy rich blue based red.
"Stay Gold" which is a clear based glittery gold. I will use a thick coat to get solid coverage.
"Boneyards" is a deep satin medium grey that I love! I will use this one a lot!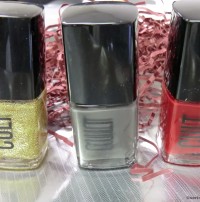 The lacquer as pictured are Stay Gold, Boneyards, and El Matador! The kit also includes techniques for doing different art with the dotting tools!  I will whip something up for you folks asap.
Happy January!