Oh my gosh, I now remember all about using stripping tape!
In the last post that I made about the Tiffany and Cream nail, I used silver stripping tape to make a nice clean line between two colors of lacquer.
And I thought it looked beautiful! And then I packed us up for a trip south where we played some golf plus we did some work  that were a little hard on these fingernails.
I noticed today after golf that the tape had started to come up at the ends. Then, I remembered using stripping tape in Nail Tech school and that it inevitably did this.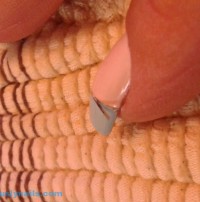 But then I remembered the trick.
All you need is some glue and a tiny pointed instrument of some kind. I used one of my dotting tools.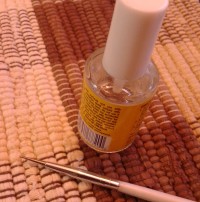 When you are placing the tape at the desired location, you have to remember to use glue of some sort to anchor the tape down. Using just top coat doesn't work unless you are on a extended holiday having your laundry done, dinners made, and cocktails brought to you by the cabana boy! (hmmm, sounds nice!)
So, it is a simple trick. Once you have the tape cut to length and applied, just add a drop of glue to the end.
A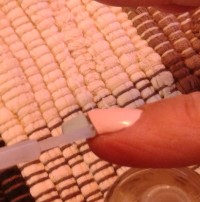 nd using a skinny sharp instrument, gently push it down to the nail while it is drying!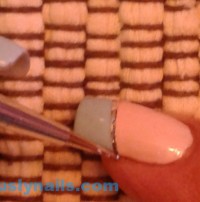 Easy, simple.
I just forgot to do it!
Might save someone the trouble of having to do this procedure after the fact.
Have a great day!