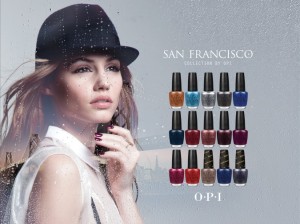 San Fransisco-OPI's Fall/Winter Collection 2013
As we scour through all the fall fashion magazines, we find that the colors for this fall include very vibrant rich jewel tones. Royal blue and purple, emerald green, ruby red and sunset oranges. Shimmering silver grey's of this falls color collections are big this year too. Along with metallic shimmers that range from green to purple. Look for OPI "Peace & Love & OPI" for this diverse color. Included in this collection are three "Liquid Sand" limited edition colors. "Liquid Sand" nail lacquers dry to a textured matte finish. Do not finish with top coat to keep this texture or use top coat for a different type of art.
I am completely in love with all the jewel tones of this falls collections in clothing, jewels, shoes and of course lacquer but I have to admit that I absolutely love OPI's Road House Blues. (2011 OPI Touring America Collection) It is a "purplish blue" that tends to look black when you are wearing a completely black outfit. Nice though to get three looks out of one color.
Here is a pic of my new fall color. So far anyways!!!!! Also available in Gelcolor!!!!!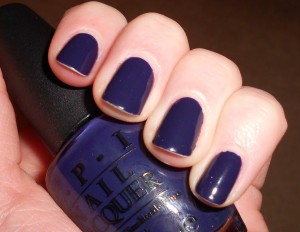 You can find all of OPI's lacquer colors at www.OPI.com. (you can also "try" on colors on their site)