So I left the ISSE Show a couple of monday's ago with just over 24 bottles of lacquer/gel color.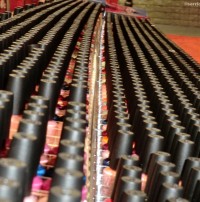 Now this wouldn't be unusual except I don't have a salon any more!!!! I simply do my nails, my friends nails and my blog.
But, yes, I HAD to get those 27 bottles of gorgeous colors. As well as some other things. Tools, glitter, and other assorted nail art supplies!
But the 27 bottles of color??? REALLY, Shannon! LOL
Well, it's not a bad addiction considering the other options! tee hee
But the problem arose when I got home and had to figure out how to store them.
Well, you can turn to the internet for most things now a days. And this is where I found this good idea. It is a jewelry/make-up holder for your closet. It has a coat hanger top and you can hang it on the back of a door or on a decorative hook on the wall. It stores you colors upright and you can see them at a glance!
You can also color block the polish/lacquer in separate pockets.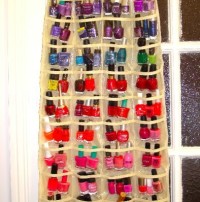 I also think its a good idea because you are re-purposing something that may have been sitting in the back of your closet!
Or found at a garage sale for 50 cents?????