I know I am late starting this but I thought it might be fun! This is a challenge put on by Nails Magazine where you have to create a months worth of nail art and then hashtag it for them (and all you guys) to see it.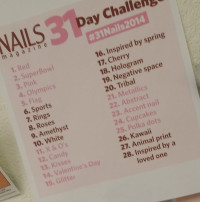 I think it's a brilliant way to share nail art of all kinds.
Could be interesting to see how I face up to the challenge. I will start with the flag on day 5 tomorrow! And then I will try and catch up with the rest of the ones I missed.
Sometimes I think that when we are pushed to do things in a timely fashion, we create really amazing things.
Wish me luck!
Oh, well, I guess I could put day one on here. I picked up one of the new additions to OPI's Gel Color collection while I was at the ISSE show in Long Beach. It is so classically beautiful.
It is part of the "Femme Fatales" kit.
Presenting "So Hot It Burns" by OPI Gel Color.