I'm not sure how many nail tech's out there still do full on sculpted nails.
I was trained (in 1989…yikes!) on how to do acrylics only doing full sculpts. It wasn't until later that I learned how to use tips and overlays.
Since that is what I was taught, it is still the method that I prefer to use when making a full set of nails.
I remember being in school and the teacher making sure that we pinched the customers acrylic nails with our two thumb nails as they were drying to create a C-Curve.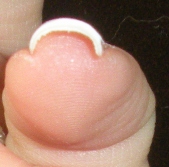 And sometimes doing it too soon and getting stuck to my client. Or completely smushing the nail. Then having to start again. LOL
And yes, the timing is important. Too soon and you get a smooshed nail, to late and you can't coax the acrylic into a beautiful C-Curve.
Well, that aside, it was a pain in the butt to use your two thumbs to create that C-Curve.
picture: loodieloodieloodie.blogspot.com
Thank goodness for Young Nails who created this wonderfull tool called the Magic Wand.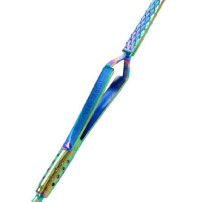 It is a pusher/scraper and the other end is a pincher. Or tweezer type implement.
Use the pusher to gently ease back cuticle and the simply turn the tool to use the scraper to remove any dead skin from the nail plate.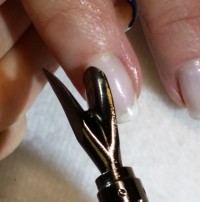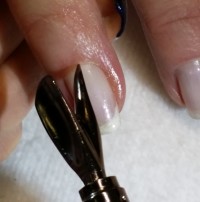 Completely flip the tool to use the "tweezer" end to secure a nail tip during gluing, and to create the perfect C-Curve during sculpting of acrylics.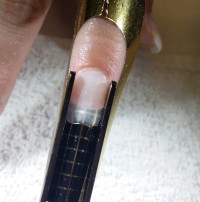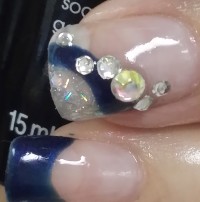 There is no pressure felt by the customer and it completely simplifies the process.
The length of the "tweezer" portion gives the nail the same curve all the way down the nail.
Available online at www.youngnails.com or authorized distributors.