I had a lady on facebook ask me for a step by step on doing the X's &  O's that I had featured that day.
So, Karen M here is the step by step for you! I realize the colors are a bit different but you can do this with any colors that tickles your fancy!
Step One, paint the nails in your color choice. This is "Something Sweet" from China Glaze.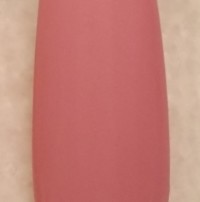 Next is to get your supplies set up. You will need your choice of small artist brushes for use with acrylic paint. You will also need a piece of tinfoil for your acrylic paint, a set of tweezers, and  your "chain".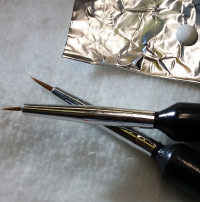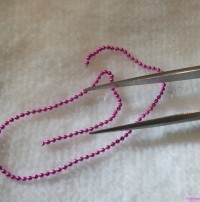 Once you have all your tools ready, find the center of the nail and using your small brush dipped into the white acrylic mark a X.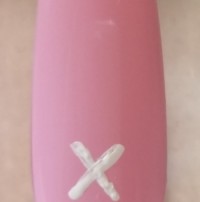 Then proceed to make your O's! A good tip for when you are working with acrylic paints on nail polish is to use alcohol to remove any mistakes you might make along the way. It doesn't ruin the polish but removes the acrylic nicely.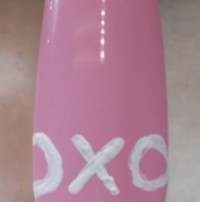 While those are drying, cut your "chain" just a little bit longer than the nail. This will allow you to make it curve on the nail.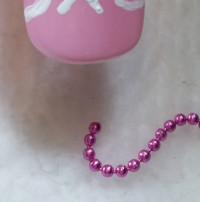 Apply a line of clear polish in the curvature that you want the "chain" to lay in. While it is still wet, use your tweezers to place it into the clear polish.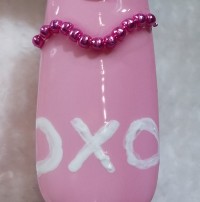 Once this sets for a minute, dab more clear top coat onto the "chain" and run it down the nail to cover the X's & O's. As well as up the top to the cuticle area.
While this is still tacky, apply any stone you like. Finish with one final coat of top coat.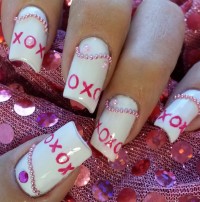 There you have it Karen. I hope this helps you play with your nails and your nail art supplies.
All the best,
Shannon