Nail technicians know that Nails Magazine is the leading source of info for the professional nail care industry. They bring us the information that keeps us on the cutting edge of our industry.
And we also know that Nail Art is a HUGE part of being a nail technician now a days.
But did you know that Nails Magazine has a digital magazine dedicated to just nail art???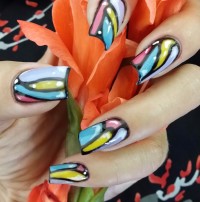 Well they do! And as a professional you can sign up and post to share your talents or learn new techniques. There are "how to" sections and online videos available, as well as many many different tech's galleries to view.
All in all a great source of inspiration for us creative types! Oh and did I tell you….it's FREE!
Plus, I have had the honor of being included in the pages of this fun digital magazine.
You can get to the magazine at this link.
http://nailartgallerymag.epubxp.com/t/32992