Right around the corner from where I live in Las Vegas is a upscale shopping center called Town Square. An outdoor shopping center with a beautiful park in the center and great stores like Sephora, Mac and Aveda. Dining and entertainment are fully represented as well.
My last journey there took me to a new addition to the center.
LOOK Style Society.
One step into the salon in called LOOK Style Society, you know that you have arrived in a very special place. A place that welcomes you to enjoy one of the most comprehensive beauty venues in Las Vegas.
The decor is clean, airy, and with just the right amount of whimsical.
A modern and yet glamorous venue.
featuring a full wall of fashion icons that are changed quarterly.
The staff that greet you are warm, friendly and knowledgeable. Each one of them very happy to help you experience the most of your visit.
LOOK Style Society is "a new concept in the wold of beauty destinations" says Niko Siton, Operations Manager.
The location features Sam Villa's H*Air show –   A Blow Out Bar. This beautiful space offers blow drys, up dos and specialized styling for your big day/night out.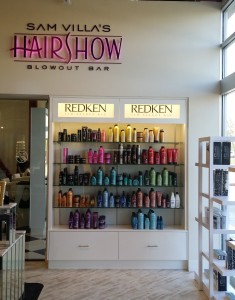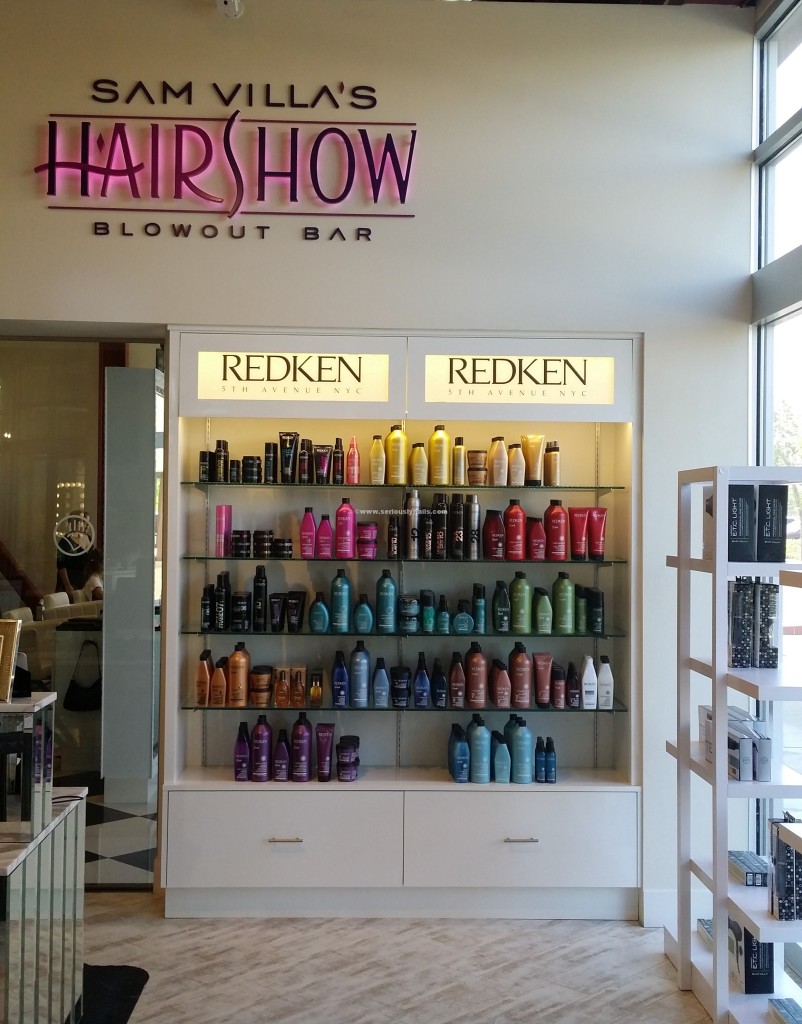 Styling starts at $40 for a average 45 minute appointment. Being on the cutting edge, clients can pick styles from the LOOK Book which shows the styles and pricing. The LOOK book is on a IPAD Mini located at each station.  And the best part is that once you are done, there is a set up for glamour shots. Why not remember your fun experience of getting all dolled up?
Along with Sam Villa's Bar, the salon proudly offers top talent and highly sought after stylists who are noted to be 'the best of the best' in their profession. The Society Stations are locate in the Loft on the second floor. A great space to watch the beautiful people come and go.
Also, upstairs, is a suite available for meetings and private parties. A wonderful venue for your bridal party to meet and plan for the big day.
You will have to share the room 3 days a week with in house photographer, Heather Rogner.
Call LOOK for more info on Heather at 702-712-4345
Make-Up Artists create the perfect look for your night out or your big day. Eye Lash extensions are also available.
Chocolate Sun gives you that sun kissed look without the damage of sun over exposure. Natural and organic sunless solutions developed to give you flawless color.
And then of course, the Nail Lounge…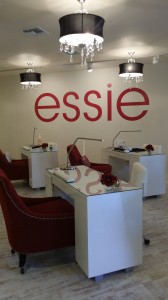 To begin with, the lounge is a extremely clean a pretty space. Manicurists tables with great lighting and super comfy seats await your perfect manicure.
Secondly, the nail lounge is a full ESSIE salon. Featuring a wonderful selection of colors ranging from the palest of french colors  to the darkest of darks.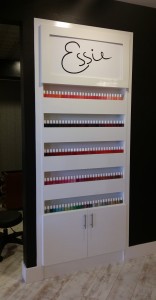 As you can see, the displays are both visually pleasing and logistically well built. On one side the polish is showcased for customer selections and on the other side, the same colors are mirrored for pedicure clients.
One look at the beautiful back wall of the nail lounge and you know you will get treated to all the current colors available.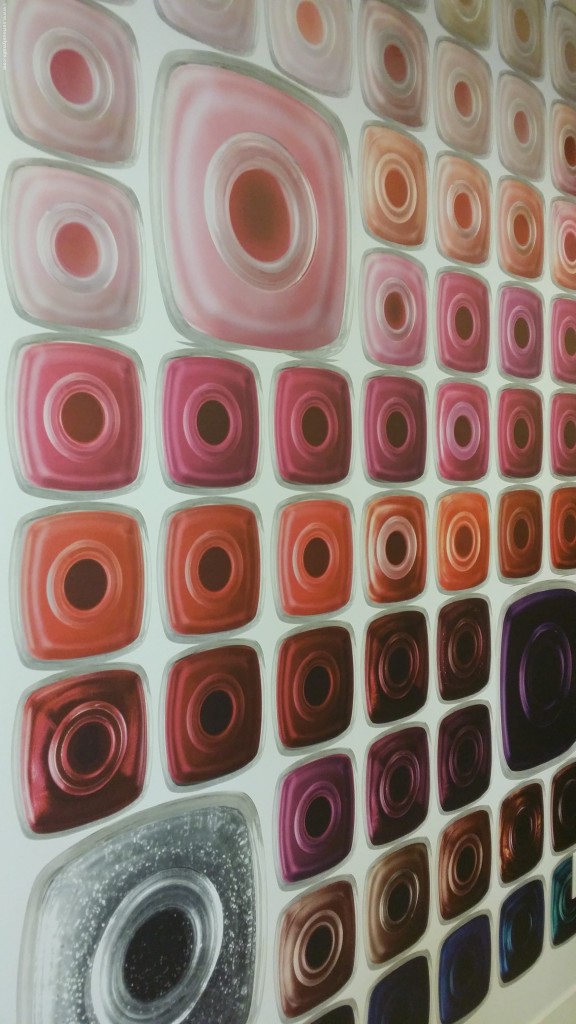 Essie Gel Colors are also used for gel color manicures and pedicures.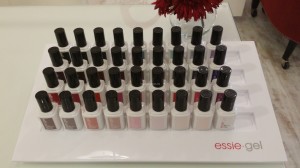 Pricing for services in the nail lounge are affordable. Services range from $25 to $45 for mani's From spa manicures to gel color services. Including men's services as well.
Pedicure prices are also reasonable starting at $45 to $65. Spa pedicures to gel pedicure services round out the care for your finger and toe nails.
You can receive upscale spa services without paying the spa pricing.
Phase two of LOOK Style Salon includes a build out of both upper and lower floors to incorporate a MedSpa by Dr. Orna Fisher. The MedSpa will provide high quality, personalized care. Non Surgical facial rejuvenation options including injectable procedures, laser treatments and skin care will be available from Dr. Fisher.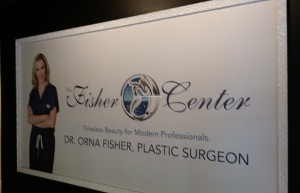 The third phase will be offer men's services such a barbers for hair care and shaves. Plus, more stations and suites available for private parties.
One of the niceties that LOOK Style Society offers is a lovely little café where you can enjoy a coffee while waiting for your stylist. Or where your partner can wait and enjoy a nice refreshing soda or sweet snack while you are being pampered.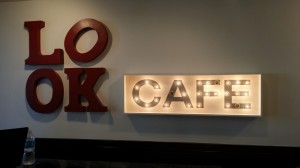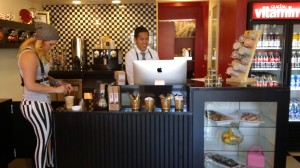 Outstanding, top of the line hair/nail and skin products are available for purchase at LOOK Style Society.
Kerastase, Morocan Oil, Redken, Pureology, Shu Uemura and a full section of men's grooming products await you.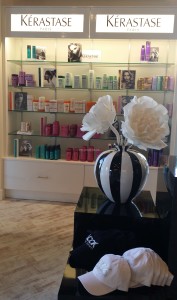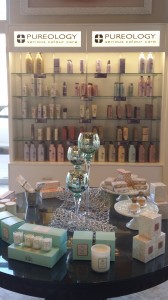 As well as some funky pedi slippers if you forget yours.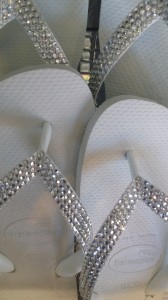 Nothing like a little bling while in Las Vegas.
Finally, they have a nice selection of jewellry, and gift items for purchase.
One great line they carry are "The Giving Keys". Funky old keys that are stamped with inspirational words such as Dream and Breathe are offered on either chunky chains, or higher end gold and silver chains, as well as braclets. The idea behind them is that you either purchase one for yourself or a friend/loved one who may need that message. Once you/they feel like it has worked its magic, they pass it on to someone else that needs it. Then you write on their blog the story behind it.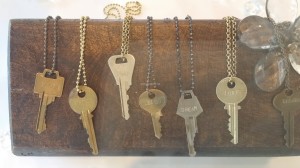 And , The Giving Keys has employs people experiencing homelessness, providing opportunities for the team members to move into permanent housing. Perfect right!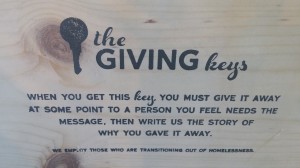 All in all, LOOK Style Society offers premium quality services at realistic pricing. In a atmosphere of style, with a energy that exudes creativity. Beautifying at it's best.
Give yourself the gift of beauty at LOOK Style Society.
6539 Las Vegas Blvd South, Suite 110
Las Vegas, NV
89119
702-712-4345
Open 7am – 10pm DAILY
You can also book online at www.LOOK-StyleSociety.com