Spring flowers for today's challenge.  I admit it.  I am double dipping on this one.  I am using it for both Challenge your Nail Art and Nails Magazine 31 day challenge.
I used acrylic to sculpt the petals of the flower (which I was trying to make look like a daffodil) as well as the little leaf.  Then I painted them with acrylic paint.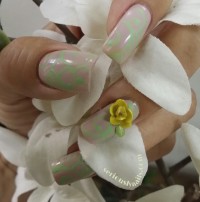 I painted my nails and made the swirly designs.
Once they were dry, I laid down a blob of clear acrylic and placed the petals into that.  I also used glue to help with putting it together.
Happy Easter everyone.
OOOOO now I need to work on the final prompt.
RE CREATE!