Ha ha. I couldn't help myself with the title.
I follow a gal online that does some amazing art. Her site is called PiggieLuv.
She is based out of the Netherlands and is a very kind gal who focuses on independent nail polish brands.
Well, a little while ago, she put it out there that she had far to many polishes and was looking to sell some of them off.
She opened a store in a site called Store Envy. I went to the store and ordered one of her "grab bags".
I was interested to see what would come in the bag as the only indie polish companiesI have death with is TreNique.  And Lacqit One Step Gel.
My package arrived today and I am super excited because she sent me very cool colors.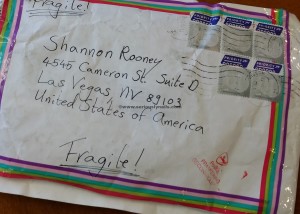 Even one token OPI polish arrived.
There was one little fatality but that's pretty good.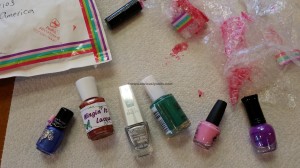 Considering that it came all the way from The Netherlands!
I am looking forward to playing with them.
Here they are for you to see!
I will post later with pics of the colors/nail art I do with them.
Have a great day!
Man, I love getting good stuff in the mail!!!!!
You can see for yourself about PiggieLuv at http://www.piggieluv.com