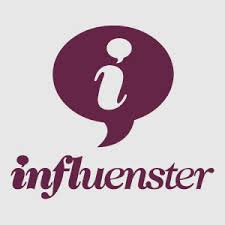 I had recently signed up to a website called Influenster. The best way to describe it is as a site for consumers that are also bloggers/social media user who don't mind reviewing and rating products.
Here is a direct quote from their site.
Influenster is the go-to destination for trendsetters who want to be rewarded for their influence.  Qualified members gain access to the latest products, share their expert opinions and spread the word on their favorite discoveries.
The site allows folks who are curious about products to see reviews and photos of those products being used every day by folks like you and I.
Those reviews are made by people who have unlocked "badges" on Influenster's website. You unlock badges by taking surveys about certain things like Beauty, Auto's, Hair Care ect.
You receive points for every badge you unlock or when you share your social media habits. As well as your social media impact. Once you have gotten your score higher, you start to qualify to receive a VoxBox.
VoxBoxes are boxes filled with complimentary products from your favorite (or soon-to-be-favorite) brands. Not all Voxboxes are created equal: some programs feature an assortment of products while others will spotlight one awesome brand. But make no mistake: All VoxBoxes are created awesome.
It is free to join this community of social media guru's and consumers. So if you love to write or share your opinion about products (new and old) go ahead and sign up to this fun community.
As you can see, I just received my first VoxBox.
And I love when I opened the package. That's smart branding!
Here's the goodies I received inside.
Two coupons from Jamba. One for a FREE All Natural Smoothie Kit and one for a $1 off a All Natural or Fruit & Veggie Smoothie Kit.
A 2 oz Hawaiian Tropic Silk Hydration After Sun. I am excited about this one. I love lotions and creams for my body. (Especially living here in the desert!)
A gorgeous minty green polish from Sinful Colors. Super excited to see this one on!
From CoverGirl, a full size Bombshell Curvaceous mascara. I am seeing so many different mascara products recently. Especially at the IBS Las Vegas this last weekend, so I am interested to see what this one is like.
And finally, a very interesting bottle of First Aid Shot Therapy. It is a liquid form of pain relief. Not sure I am looking forward to needing to test this one soon! LOL
So stay tuned for each review that I do for you on each on of these products.

"I received these products complimentary from Influenster for testing purposes."