I have decided to launch a new chapter in the Seriously Nails book.
The idea came when I met Naja (Inspiring and talented Nail Guru) at Cosmoprof Las Vegas. I thought
 wouldn't it be great if everyone got a chance to get to know the industry leaders, artists, manufactures and nail enthusiast out there.
And so I asked a couple of people who fit into that category if they would be interested. Everyone said yes!
I was going to talk with Naja and then the two of us decided that since I got the chance to talk with Lucien Henderson about THE NAIL PLATFORM, it might be better to start there.

If you missed yesterday's post, this link will fill you in on what THE NAIL PLATFORM is. http://seriouslynails.com/?p=3119
Beside THE NAIL PLATFORM, Lucien is the creator of Empower Nail Art.
Empower Nail Art is a super thin self-adhesive nail film in varying designs to let your creativity bloom.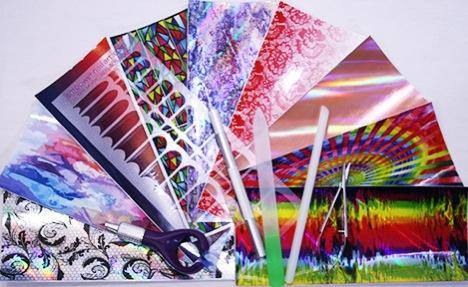 A very interesting fellow with a great love for our industry.
So here is my inaugural Q & A post from people in the Nail Industry! Enjoy!
Mr Lucien Henderson- Creator of Empower Nail Art and THE NAIL PLATFORM
SN:When and how did you get started in the Nail Industry?
LH: The founders of Minx, Inc. introduced me to the nail industry in 2009 and I served them until 2012.
SN: You are the creator of Empower Nail Art! This is a unique product. Where did the idea come from?
LH: I fell in love with the industry and the art, and am a little addicted to wearing it.  I knew vinyl films but could not find one that worked with all of the other nail mediums, they all had limits. It turned out that a new material needed to be made, and they only way to test the theory was to make it.  Once we had a true nail film that worked well with acrylics, gels, polish and gel polish; it made sense to leave the use of it to the nail artist, so we leave it in un-cut prints and the artists cuts it as desired.
SN: Has the idea for THE NAIL PLATFORM always been in your mind? How was the idea born?
LH:  The Nail Platform occurred to me during the 2012 show season.  2010 and 2011 I had run booths with no time to really walk the shows.  In 2012 I attended for the first time, and went through the floors with different eyes,  I was learning not selling.  All I could find was product specific demonstrations — product focused, not skill focused.  We have no structure for the independent educators and many of them are amazing.  All the isles were packed with crowds watching platform hair artists.  We have no answer for that, we don't pump up the pros and inspire the students.  The Nail Platform seeks to be a structure for ensemble leading artists to help raise the skills of others, while inspiring and elevating the art.  Let's get some action at the shows and let's join up to share our skills!
SN: How did you manage to meet up and join forces with the wonderful people you have taking part in THE NAIL PLATFORM?
LH: A big part of falling in love with this industry was getting to know so many amazing people.  I've met them selling, learning, sharing, helping at trade shows, networking events and social media.  This community is full of great souls, and I'm blessed to have made wonderful friends.
SN: As a nail artist, and besides Empower Nail Art, what is your favorite medium to work in. For both enhancements and nail art?
LH:   I recently completed school and will test soon.  Thankfully, I'm getting tons of help from leading professionals!  So I'm getting to know how to really use the mediums I've watched for years.  I believe they all have their uses given the tech's skill and the client's needs.  I like to stay in my safe zone of acrylic for structure then gels or gel polishes.  Nail art for me is about layers, with each layer a part of the look I'm creating.
SN: If you could have one client, either living or dead to take care of their nails, who would it be and what service would you give them?
LH:  Nice question!  I'll be doing my future wife's pedis and nails every week…when I find her!
SN: Ha ha that's a great answer. 
Thank you Lucien for taking the time to let my followers get to know you and your dreams a little better.
Best of luck with your inaugural THE NAIL PLATFORM.
THE NAIL PLATFORM will be held in Anaheim CA Sept 7, 2014
To purchase tickets go to http://www.eventbrite.com/e/the-nail-platform-anaheim-tickets-12264879585