At the Silverton Casino in Las Vegas to mingle, learn, and elevate your skills!
PLATFORM will help you get there.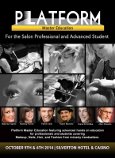 Tickets are available for you to come and see fashion runways styles being created. Learn from industry leaders in hair, nails and make-up.
Come experience the excitement of the fast paced world of fashion runway shows.
Oct 5 & 6, 2014 in sunny Las Vegas!