As most of you know, I do a daily challenge from Nails Magazine that started in January of 2014. The hash tag is #31nails2014 for you Twitterers/Instagrammers!
Well, I started this challenge late in the year (February) but I promised myself that I would do it for a full year.
With that being said, Nails Magazine only did it for a year (I totally get it! I can't imagine trying to come up with a new nail art prompt every day! Thank you Nails Magazine!)
So I contacted one of the lovely editors at the magazine and she gave me the links for me to get the prompts for January and February of 2014! Thank you Sigourney

Whew, this is a long story!
The point I am trying to get to is this, I wanted to recreate a Nails Magazine cover (day 6 of Jan 2014) so I recreated them on tips as the shape is very different than what I wear!
But I think nail art always shows better on a hand so I needed to find a good way to get them on my nails.
Tada! I found these little devils from Dashing Diva! I found these in Walmart but you can also order Dashing Diva products online at http://www.dashingdivapro.com/
And they are very easy to use.
Size the tab to your fingernail.
This is easy because they are on clear plastic!
Then place the tab on your nail with the sticky side down. Press this out to remove any air bubble from the tab.
Remove the top layer of plastic from the tab. You can see the clear tab now!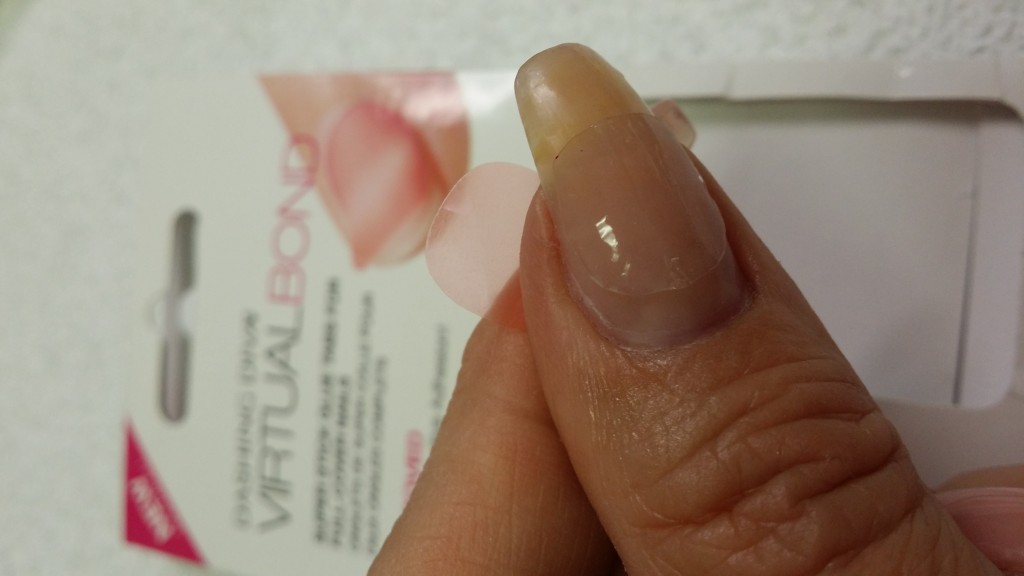 Next comes the application of the tips. Make sure that you line the top part of the nail tip close to the cuticle so there is no gap!
Here is the finished product!
They suggest putting some polish remover under the tip to help remove the tab and tip, but since I only had them on for the photo shoot, I just gently removed them. No damage to my nail at all. They do have good sticking quality though. I had to work a good bit to get them loose!
You can follow Gina on Instagram  @gelessentialz