I got to meet both Lucien Henderson and (quickly said hello to) his incredibly talented sister, Holly from FingerNailFixer while I was at the Nails Magazine Next Top Nail Artist Finale in Long Beach this last weekend.
OK they may hunt me down for publishing this pic! But seriously………..
It was so nice to chat with Lucien about his newest tool available just this last Wednesday. (click here http://www.empowernailart.com/shop/ring-thing/)
THE RING THING
The new tool is called The Ring Thing and it is made of un-coated metal with a hand polished and electro-plated surface. It has unique divets that will hold and allow product (gel, polish, paint ect) to be stored. Plus the unique design allows the artist to flood the brush and wipe it out on the little "tip of the drop"
Included in the design is a special space that allows the artist to load the perfect amount of product into the brush and make sure it's bristles are nicely lined up!

Quote from Empower Nail Art site is that you can also use the Ring Thing
as a mold for custom made cabochons.
As well as having a adjustable band that will allow you to fit it to any finger, this light weight tool will keep your imagination flowing!
Thank you for giving the nail artist the tools to let their imagination run free to create beautiful things.
Here is the link for Empower Nail Art http://www.empowernailart.com/ where you can also find Empower Nail Art Films plus the accompanying tools needed to create diverse nail art like this.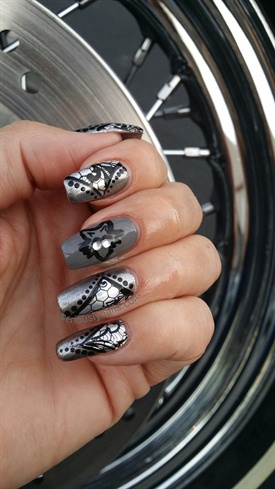 Find out more about Holly the FingerNailFixer at http://www.fingernailfixer.com/