Well, I have to say that the world seems to be full of 50 shades!
From a parody (live here in Las Vegas)
to wine, 50 shades is every where! Including coming to theaters on friday!
Well, the book definitely made a splash and so has the ensuing phenom!
OPI has given us 6 delicious color shades that epitomize the contents of the book.
From dark deep red to subtly glitzy hued glitter with blue and purple sparkles. The collection also shows us the different personalities of grey.
So here are my swatches and for a little extra twist, I asked my husband for a descriptive word or two on each shades.
We'll call it the Mr. Factor!!!!
"MY SILK TIE"
A shimmery taupe-y warm toned silver. It has good coverage but can be streaky if your not precise.
The MR. Factor="Brushed Nickle"
"CEMENT THE DEAL"
This is a nicely opaque 'baby hippo' light gray creme. Very easy to apply.
The MR. Factor="Gray Wolf"
"EMBRACE THE GRAY"
I LOVE this gray. It is a charcoal creme 'grown up' hippo gray! Also nicely opaque.
The MR. Factor='Thunderstorm Gray"
DARK SIDE OF THE MOOD
Dark side of the Mood
This is a dark charcoal gray with perfect coverage. Moody is the perfect description for this deep charcoal gray. Almost black but not quite.
The MR. Factor="Coal Gray"
ROMANTICALLY INVOLVED
This is seriously the prettiest sexiest red I have seen in a long time. I'm not sure that the picture does it justice at all. It has this deep deep base that feels like you are falling into the color. I think that they "nailed" this color for this collection!
The MR. Factor="Ruby Sky"
And finally the pretty versatile "Shine for Me"
SHINE FOR ME
As you can see, this is the most versatile of the collection. It is a glitzy duo-faceted polish. I used it by itself on the thumb and then one coat over each one of the gray colors in the collection. (one coat each of the base color)
So there you have it. The 50 Shades of Grey collection from our friends at OPI!
Time for a glass of wine!!!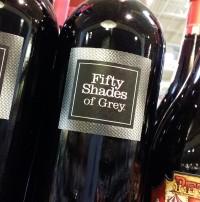 Become part of our Social Media family by following OPI on Twitter and Instagram @OPI_PRODUCTS and become a Facebook fan!
Also visit OPI at http://www.opi.com/
Product sent to me for review by OPI.