I recently had the pleasure of meeting Elizabeth Morris (owner of Va Va Varnish in San Diego) creator and commentator behind The Nail Hub.
The Nail Hub is a completely free Nail Industry Podcast put on by Elizabeth. She wants to share interviews with industry gurus, give business advice and expose you to quality products (including insider discounts!)
I connected with Elizabeth on the level that we both feel strongly about us professionals being educated and sharing our knowledge and passion for the industry. Also, to keep our industry standards at a high level so that we can show the world that we are professionals.
Keep a eye out for some collaboration between Elizabeth and myself in the future.
Here is Elizabeth's nails that she wore to the IBS Las Vegas show this last weekend. She extended her nails with Akzentz Pro-Formance Hard Gel and then created this gorgeous nail art using Akzentz Gel Play! Her gems are Swarovski and held in place with Akzentz Bling On! This company has some bomb products!!!!
I love the underside of her nails as well. So chic!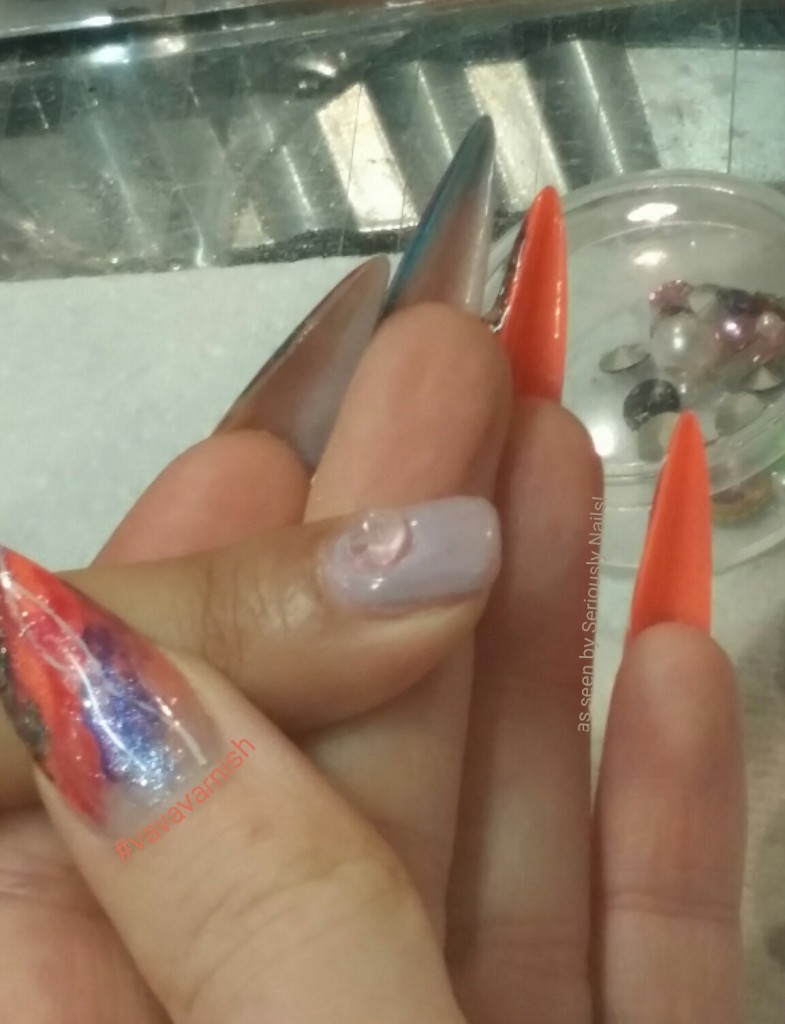 Elizabeth Morris from Va Va Varnish and The Nail Hub – working with Akzentz at IBS Las Vegas. Check out the undersides! LOVE!
The above picture is of Elizabeth using Bling On to apply Swarovski gems to a attendee at the show.
To see more about The Nail Hub Podcast go to http://thenailhub.com/ You can even sign up to have the podcast sent directly to your email! And you can see it on YouTube at https://www.youtube.com/channel/UCe_Ulw4CM7zwQUQVGi5iHVA
Here is a great video by Cindy from The Pulse out of San Diego that is on YouTube