I received this lovely package from KB Shimmer while attending the bloggers event that Katie Cazorla and Nail Pro/NailIt hosted during Cosmoprof NA in Las Vegas.
Although I know it is still August, I have to share this little tib bit that made me feel like Christmas was here early.
Part of the package contained this WONDERFUL smelling cuticle oil. It really does smell like Chai Tea. The bonus is that the scent stayed with me for a good couple of hours.
The pen that it comes is has a soft brush (I'm not sure what it is made of) and on the other end is a dial that you turn to push the cuticle oil up to the brush. You have good control over how much comes out that way! Plus it is perfect for your purse, especially while travelling!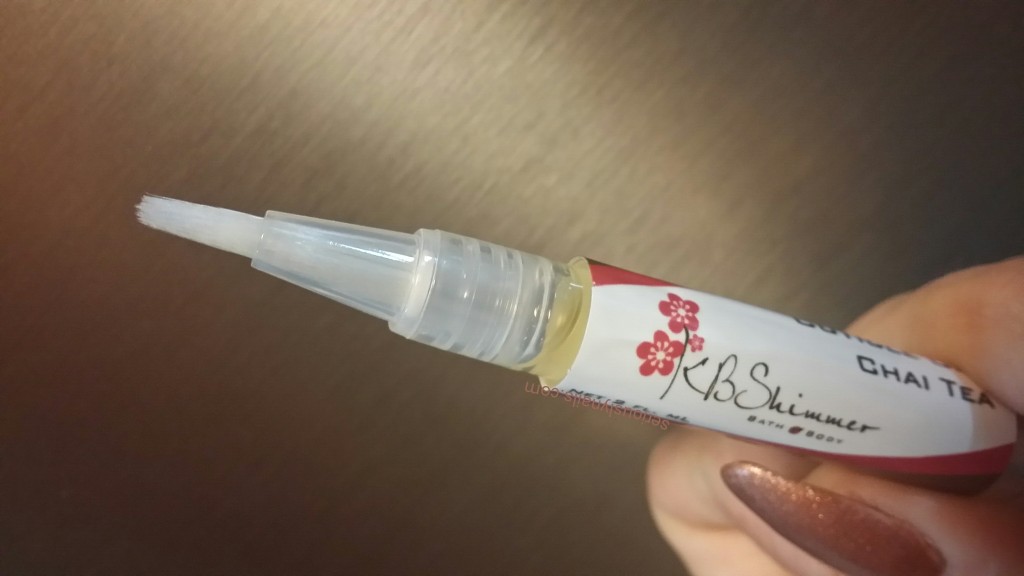 The oil is has a creamy texture to it which is nice. No oil slick here!
So, if you are one of those folks that loves Christmas and all the delicious scents that surround it, you definitely need to go to https://www.kbshimmer.com/ to make sure you get some for yourself.
You will also find her fabulous nail polish, and just new to me, Mani Shots! I have to find out more info on those things for sure.
I wanted to thank Christy for the lovely gift package. I will continue to blog about the other gifts inside.