I live in the desert of Las Vegas and love the heat as well as the constant sunshine! So why would I be excited to go to Rhode Island at the end of October?
Well, I am going to go for some training! With Crystal Culture!!! Woop Woop!
And here's the great thing! There are a couple of spots left! So, that means that you can go too!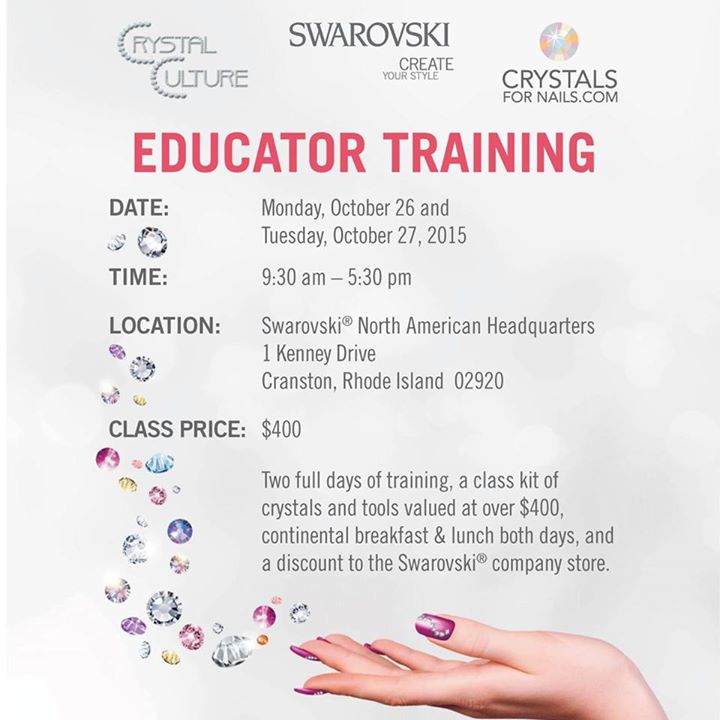 As you can see the classes are being held at Swarovski USA Headquarters in Rhode Island and is being taught by Gina Silvestro.
The thing that draws me to work with Crystal Culture is that they are non product specific. They welcome any form of nail enhancement specialist to work in conjunction with them to make beautiful nail art that shines!
But here is the other amazing part, if you get to become a Crystal Culture Stylist, you have opportunities to further your career by marketing yourself as a freelance educator and teaching classes in your area/network as well as doing educator work with Crystal Culture in a group setting.
There are a couple of thing that I would like interested professionals to think about. Working with and being trained by people like Gina is ,in itself, a notch in your belt. Remember to surround yourself with greatness to become great!
And then working with high quality luxury products like Swarovski will elevate your game too. Did you know that 88% of women polled state that a product with the Swarovski seal represents a touch of glamour. And they are willing to pay 44% more for products with the Swarovski seal!
So that being said, having Swarovski Crystals available for nail art will help you introduce retail into your business on a opulent sparkling level!
These are Gina's nails that she wore to Premiere Orlando in 2013, and as you can see they are a hit.
To see more about Gina's interview in the issue above go to http://www.nailsmag.com/article/97220/red-carpet-ready
And to get your space for the training secured go to http://www.crystalnaildesigns.com/class.html
Hope to see you there!