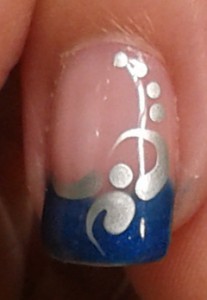 OPI GelColor Multi Media Nail Art using silver acrylic paint is fast, easy, vibrant, whimsical and fun!
Some people find nail art hard to imagine. One suggestion I have for you to get started with nail art is to get some acrylic paints and a good stylus (craft store) and simply play with it on nail tips. Use several different colors and both sides of the stylus to get used to what is possible! (Kinda like playing games on your new computer to get used to the controls!)
A example of a simple and effective stylus.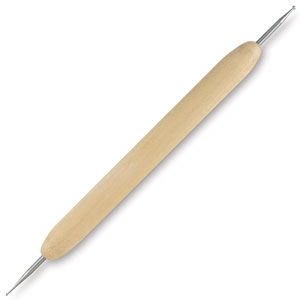 For those professionals that are already well versed in applying  OPI GelColor, I will spare the details. (But will show the application technique in a soon to be published future blog)
Using acrylic paint for nail art is a inexpensive, creative, and unlimited way to play! I used a silver metallic and just started with a dot on the small end of the stylus and worked it in a circular motion, applying slightly less pressure as I "made the curve" This way the acrylic paint will tapper out and come to a smaller point at the end.
Then just repeat the circular motion until you get the desired number of swirls. I used only two.
A simple dragged line of acrylic paint from the two swirls to the left gave yet another look to the silver paint. Plus, this added more definition to the "smile line"
I find that finishing nail art on GelColor with acrylic paint is easy as dot, dot, dot.  And especially with gel lacquers of all kinds, there is no drying time! Some less than others. (Again, another post!)
You may notice that as you progress with each dot, the amount of paint decreases and so does the size of the dot.
OPI GelColor Multi Media Nail Art.
Sorry for the dusty cuticles!