Seriously Nails is based out of fabulous Las Vegas Nevada.
And, I have seen some different nails down here. It's like when people go on vacation, their nails do too! So I get to see tons and tons of different shapes, nail art and styles.
This will be the first post in a new category that I will call "LAS VEGAS NAILS"
Truthfully, a couple that I found needed to be done again but I thought they were unique.
This gal actually works at Lowe's. She didn't loose one single gem!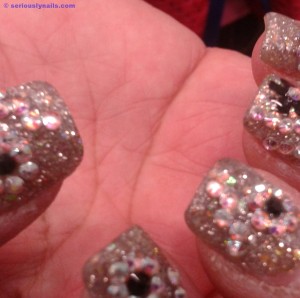 This next gal helped us out when we were picking up tickets to a show at The Quad.
(ps. If you love energetic and loud music, go see "Recycled Percussion" )

They were sparkly acrylic on her nail bed and then solid pink on her free edge!
This is Cindy Miller from Las Vegas's nails. She has some one do the acrylic for her, and the paint but then she places the stones!