There are a couple of great Nails Only events coming in this month.
There is the Canadian Nail Tech Connection as well as the Best Lil' Nail Show, Texas. Both in the month of April.
Let's talk about the Canadian Nail Tech Connection since it is first this month.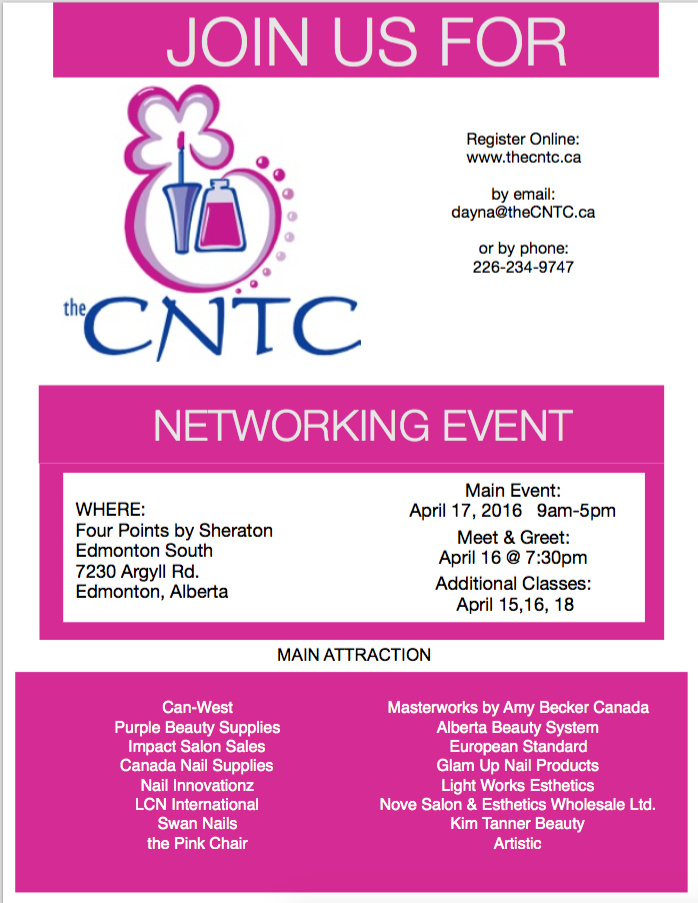 The event will be held in Edmonton at Four Points By Sheraton (Edmonton South)
7230 Argyll Rd NW
Edmonton   AB
Canada
from April 16th with a meet and greet and the main event on April 17th.
Click on this You tube video http://https://www.youtube.com/watch?v=KV6IxEuwCGE
Join like minded technicians who love to learn and elevate our industry. Doors open at 9 and close at 5 but there are additional classes available on the 15th, 16th & 18th.
Manufacturers and their educators will be there for some very personal attention. Following is a list (in no particular order)
CAN WEST
PURPLE BEAUTY SUPPLIES
IMPACT SALON SALES
CANADA NAIL SUPPLIES
NAIL INNOVATIONZ
LCN INTERNATIONAL
SWAN NAILS
the PINK CHAIR
MASTERWORKS by AMY BECKER CANADA
ALBERTA BEAUTY SYSTEMS
EUROPEAN STANDARD
GLAM UP NAIL PRODUCTS
LIGHT WORKS ESTHETICS
NOVE SALON & ESTHECTICS WHOLESALE LTD
KIM TANNER BEAUTY
ARTISTIC
So, a nice looking line up for certain.
Tix are only $60.00 CAD and there will be loads of other techs from across Canada and some of the states to get to know and share knowledge with.