A simple nouveau nail art trick for beginners (and a little reminder for the professionals reading this)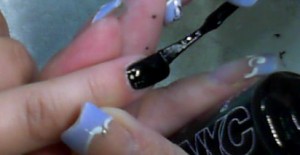 A very dramatic, very simple and effective form of nail art is the use of one of the newest, fun and interesting medias to date.
Matte Top Coat and Matte Polish (also available in GelColor by OPI) are making the world of nail art incredibly unlimited. Just when you thought that a color was only one dimensional, along comes matte top coat and polishes that allow you to leave your masterpiece in a rugged state.
It is as simple as applying any other polish (whether you are using regular lacquer or GelColor of any kind, please be sure to follow manufacture's instructions) …also be sure to check out Lacqit for a amazing One Step At Home Gel Polish!  www.thenailscene.com
To start, apply two coat of black polish.
Then to give Jessie's nail the Nouveau trendy matte finish she was looking for, I applied China Glaze Matte Magic to her nails! Make sure that you get the Matte Top Coat all the way to the top of the regular polish. If you miss any up there you may have to go back and touch it up. Unfortunately, this may leave streaks in the matte finish you are trying you achieve.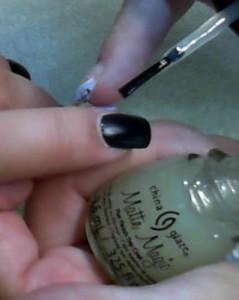 Secondly, Jessie was looking for just a hint of gloss on the tip of her nails so I simply applied a top coat like I would have to do a "French tip"
When it was all said and done, Jessie was happy with her Nouveau Black Nails…and so was I!!! Nothing like finding creativity with new things.
Simplicity with a "Nouveau" twist!