A fast and easy way to get a couple more days wear out of your nails with art!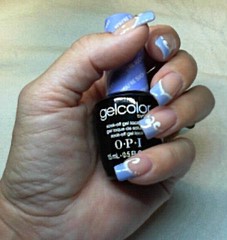 This is another twist on french manicures. I used "Your such a Budapest" and "Alpine Snow" to create this fun french mani!
In actuality, I got lazy when I was painting on my smile lines and they were a little crooked, so I simply grabbed the "Alpine Snow" and added a few swirls and dots to cover up my laziness!!!!
It seems like, as professional nail technicians, we are always the last ones to do our own nails. Just like a mechanics car or a builders house!
So when after 3 weeks, and a dinner date planned, I had to think fast on how to make my nails look better and give them a little more strength. They were to the point of feeling sensitive and like they were going to fall off the ends of my fingers.
Not a really good look either.  So the first thing was to file them babies quite a bit shorter.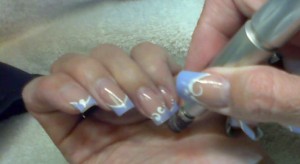 Then, because I didn't want to loose my existing art, I lightly bluffed my nails with a OPI 220/280 Flex foam buffer.
The shine needs to gone from the nails for the new product to adhere.
After dusting off the remaining particles, clean the nail and nail bed with NAS 99 on a lint free pad.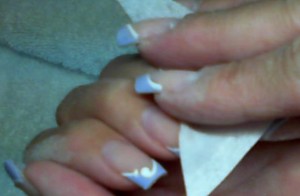 Allow the NAS 99 to completely dry before moving on to the next step.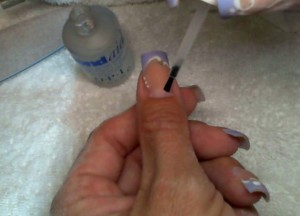 Once the NAS 99 has dried completely, apply OPI's Bondaide (a ph balancing agent) so that your products will adhere better. Apply this to the natural nail ONLY. Also, allow this to dry completely as well.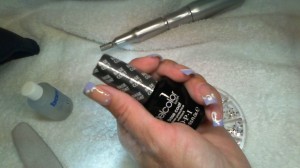 Apply a base coat from OPI Gelcolor line.  Cure for 30 seconds.
I took "Your such a Budapest" from the brush and dropped some on a plastic vessel so that I could use my handi-dandi stylus to add more swirls and dots to my existing art.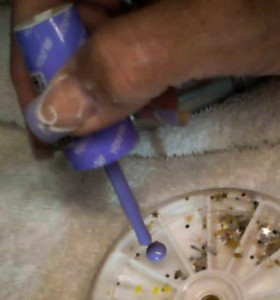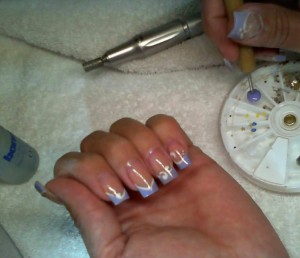 Once I had added color to each nail, I cured them for 30 more seconds. Easy right!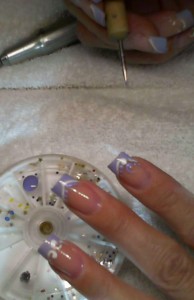 The quick finish! I applied OPI Gelcolor Top Coat, cured for 30 seconds, wiped off the moist residue and I was out the door and ready for dinner!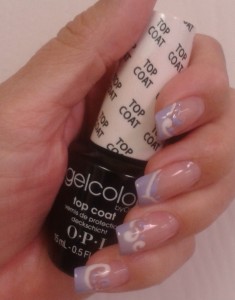 The extra strength comes from the addition of the base coat and top coat. Although I would love this to last another 3 weeks, I won't push my luck. I will be re-styling my nails this weekend. But hey, I'll get a whole extra week out of them.
This is also a great option for clients who are pressed for time (maybe they were late for their appointment!) It helps them make it through till they can spend a little more time pampering themselves.