For one of the nail art challenges from Nails Magazine #31nails2014, they prompted us with "Favorite Artist".
First let me say that it is hard to pick because there are so many out there. But this gal from The Netherlands stands out. She is a very meticulous artist and for that she is one of my favorites.

Narmai has a blog site called "Piggie Luv" and she works a lot in acrylic paints. I also really enjoy working with acrylics. Her work is by far more superior but it gives me something to strive for!
So for this challenge, I used a couple of ideas that I have seen on her blog.
The first one is Neon Lettering. These are HAND drawn!!!!
Piggie Luv's
and then mine. Mine includes another technique I saw on her blog that uses OPI Sheer Tints to add color over white stamping. I actually made my letters with acrylic paint on top of Black Onyx.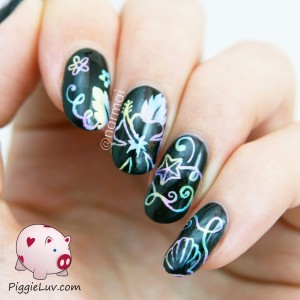 www.piggieluv.com
Apparently, Narmai's inspriation was another artist named CopyCat Claws.
I also love her watermark/trademark Pig! So I included it in my nail art as a ode to her!
Here is the photo of the nail art inspired by one of my favorite nail artists.
Please visit her at http://www.piggieluv.com