When I was at Cosmoprof NA, I pickep up a re-usable bag at the front enterance because I knew that I would  end up having a tons of stuff to carry.
I didn't realize that it had some goodies in it! One of the lovely gifts was from Bonita Cosmetics. A company based out of Souther California that has a line of polish and lip products that are trendy and fashionable colors. Helping you to express your style!
There are three lines for Bonita polishes:
Petite line is fun, colorful, and travel-sized.
Essentials line is essential to everyday life, making it extra special.
Boutique line is our salon range polish, your colors become a statement and way of life!
The line that was in my little goodie bag is in the Boutique Salon range and came in the lively and on trend color called "Cocktails In Aruba"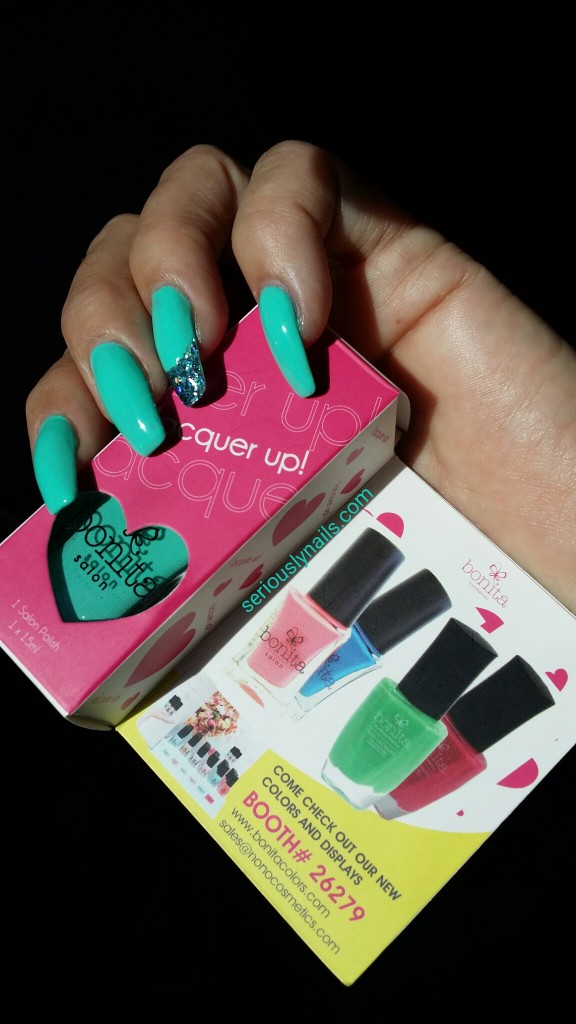 The color is very pigmented and the brush is nice and fat for easy application of such polish. I was a little concerned with the first coat as it went on quite streaky.
But I definitely didn't need to worry because the second coat gave perfect coverage. I already had some sparkly acrylic as a french tip on one nail so once I had the coats of lacquer on, I removed it at the tip to revel the sparkles!
The Bonita Boutique Salon collection boast 88 colors to choice from! Wow. And priced at only $3.99 they are a real bargain!
While I was at the show I made my donation to City of Hope at the "Boutique" where you can pick 7 items out of (I believe 12) and they gift wrap it for you with information on City of Hope. A lovely idea to let you try new items and to help out a great cause.
Ironically one of the products I choose was from Bonita Cosmetics as well! But this is the lip cream!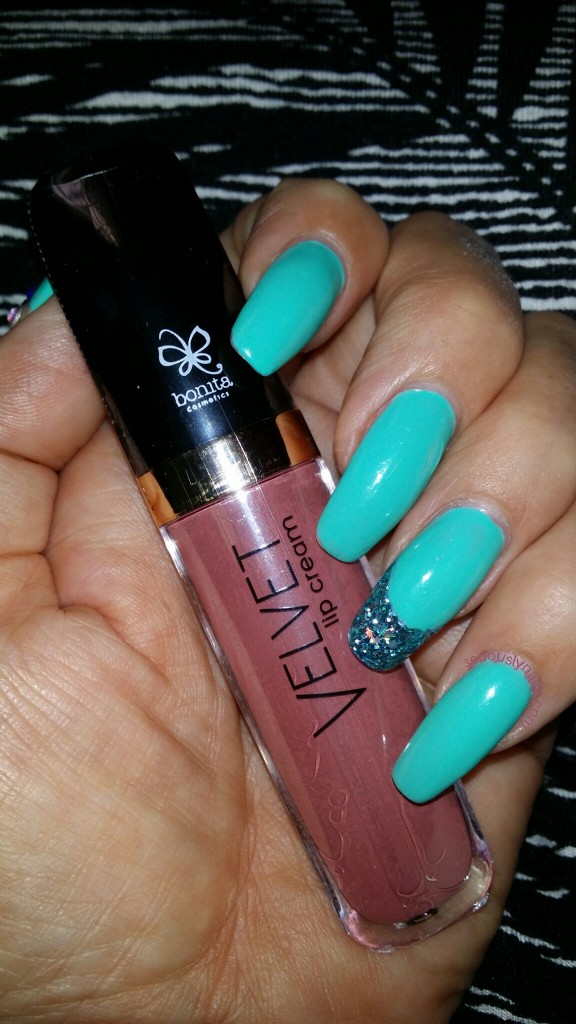 Look for the review on this lip cream coming up soon.
One other fun thing I wanted to mention was the choice of the "petite" sizes that are available as well. For nail polish junkies like me, petites are a great way to get a lot of bang for your buck. This little devils that come in over 120 colors are only $1.49 for a 28ml size bottle.
So, Bonita Cosmetics can be ordered on line at http://www.bonitacolors.com/ and they offer free shipping on orders over $30.00
Let me know what you think!