What a great way to enjoy the summer months…hanging with friends doing mani's, enjoying the hottest film of the season in a cool theater!
The Giver, set for release August 15, 2014 shows actor Brendon Thwaites as Jonas and his friend Fiona (played by Odeya Rush) as they struggle to understand the dark and complex secrets behind the seemingly ideal community.
I'v only seen the trailers, but it looks intriguing and with some cast members of note as well. One of my all time favorites, Meryl Streep! Oh and Taylor Swift for crying out loud!
So, China Glaze created The Giver collection. A limited edition collection for your summer enjoyment.
"Colour Your Destiny" with the bright colors and rich textures of China Glaze®'s exclusive The Giver nail polish collection.  Inspired by the most anticipated movie release of the summer, the collection combines bold and neutral crèmes, as well as a gorgeous glitter to create 12 limited edition shades.
Here is your preview, you lucky folks!
"The Outer Edge" is White and Silver Glitter!
"Seeing Red" is a Red Creme.
"Release" is a "Greige" Creme.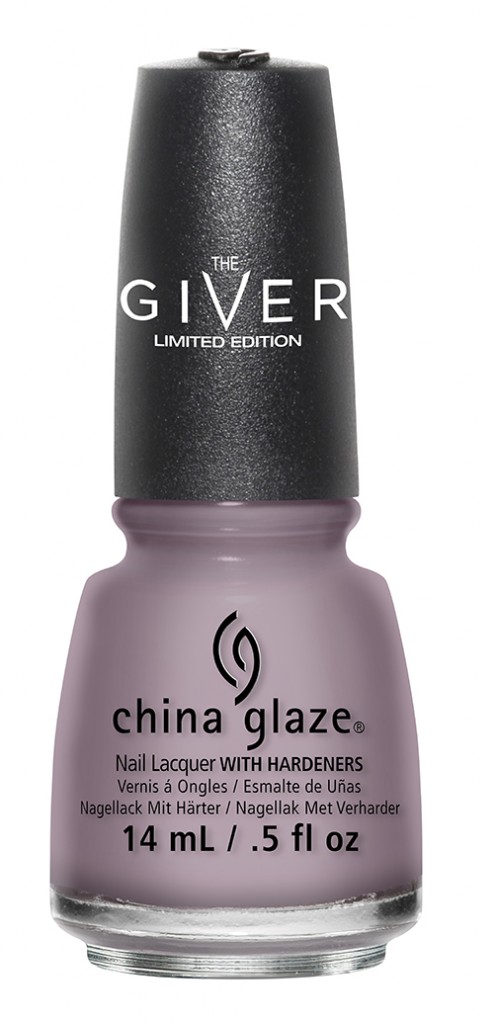 Release
"New Birth" gives us a Baby Blue Creme.
"Intelligence, Integrity & Courage" is a Grey-blue Creme.
"History of The World" is a gorgeous Navy Creme.
"Giver's Theme" lets us get wild with a Vivid Violet Creme
"Friend's Forever, Right?" is a soft Baby Pink Creme.
"Five Rules" is a Clay Creme.
"Community" is a Rich Brown Creme.
"Boundary of Memory" is a Black with Gold and Amber glitter.
"Capacity to See Beyond" is a vibrant and bright Aqua Creme!
China Glaze is a lacquer that contains hardeners that help promote healthy nail growth. It does NOT contain toluene or DBP! A little extra bonus in there!
Individual shades for this limited edition lacquer line retail for $7.50 MSRP.
I particularly can't wait until I get my hands on "Community" and "Capacity to See Beyond"
Available at Sally Beauty Stores as well as Ulta Stores.
There is also a interesting interactive site for you to experience more of THE GIVER at http://www.thegiverfilm.com
PR Release from China Glaze 
Word of the day for me!: "Greige" is a mixture of Grey and Biege.