This post is a little behind since the collection got release April 1st, so I am going to get to the skinny of it quickly!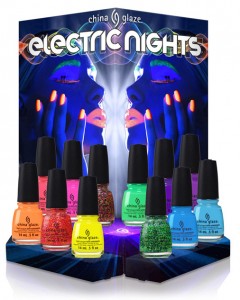 One of the newest, trendy events to be happening lately is electric music festivals like the one held here in Las Vegas. EDC or the Electric Daisy Carnival! Musical disc jockeys and huge light shows get everyone moving and shaking!
These "carnivals" have music, dancing and give folks a great chance to show off their individuality in all ways, including fashions!
One thing for certain at the music festivals is that there is definite color and fun, crazy, upbeat fashions.
So this collection from China Glaze fits the bill with the music carnival season already upon us.
The 2015 China Glaze Colour Adventure continues with the core Summer collection featuring 12 ELECTRIC NIGHTS  lacquers with 9 containing "enhanced neon lacquers that illuminate under a black light and three first-of-its-kind splatter paint effect top coats. Mix and match them all to create a glowing, mashup manicure that won't skip a beat."
Let's go through the colors!
Daisy Know My Name is a fun vibrant yellow creme.
Can I get an Untz Untz is made up of both cool neon blue and green matte multi-size glitter that will make fun changes to your colors. Or wear alone for a dramatic effect.
DJ Blue My Mind is another vivid creme, but in a beautiful shade of blue!
Glow with the Flow. How fun is this ultra bright baby pink creme? ***
Home Sweet House Music gives us more creme choice but in a neon orange option.
Let the Beat Drop is a great topper utilizing matte multi-size glitter in hot orange and pink.
Plu_Ple is a vibrant blue/purple creme. ***
Point me to the Party is neon green, orange, pink and blue matte glitter in different sizes. I think it will make another great topper or use it alone for a Pop of colors that will match all your neon outfits!
Ready to Rave gives us a fun fun fun neon creme red! ***
Love this name! Treble Maker is a glowing neon light green creme.
UV Meant to Be is a soft version of a baby blue creme. So pretty.
Violet Vibes is a wonderful rich violet purple.
*** denotes that these shades are available in Gelaze® Gel-n-Base in One™ formula.
Well some more fun is to be had with these colors because China Glaze has made available to us folks some ready to rock nail kits to make nail art easy! Included in this kit is 3 lacquers and a assortment of nail charms! Speak your mind and rock on!
Baby lacquers help you travel easily while being able to change it up with ease!
As well as regular lacquers, China Glaze has made available for use in their 'gel like' lacquers.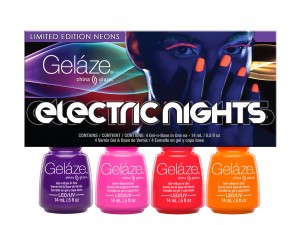 Here are some of your options from the ELECTRIC NIGHTS collection in Gelaze!
Summer music festivals will be filled with vibrant and electric colors when you wear these limited edition Neon colors!
For more information, please visit www.chinaglaze.com or follow China Glaze® on Facebook (@ChinaGlaze), Instagram (@ChinaGlazeOfficial), Twitter (@ChinaGlaze) and Pinterest (pinterest.com/chinaglaze).