Ha Ha Ha…I am finally getting into the Christmas spirit. Probably because the weather is turning cold here in Las Vegas.
I think since I am in the spirit, I should celebrate with some snow!
I started out with OPI's "Alpine Snow" as the base color. Then I added, from the cuticle area towards the free edge, a sprinkling of Sinful Colors "Queen of Beauty". It is a fine fine sparkle in a clear base. Then to add a little bit of color into the design, I topped that (on the same area) with Serphora's "Reactive" This gave the design a bit of green and yellow sparkles!
I had fun placing the bigger round holographic pieces in OPI's "I Snow You Love Me". I was trying to make them look like really big snowflakes!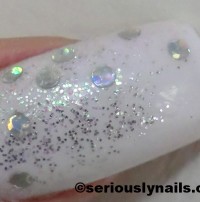 I wasn't completely happy with the outcome and it took me awhile to figure out what was missing.
There was too much space in between the snowflakes and they just looked like big dots of sparkle.
So, I added some acrylic dots in the color of metallic silver!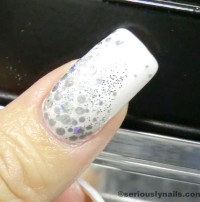 I really like the finished product now. It does look like the winter wonderland that I wanted! Or a snow blizzard!
Hope this gets you in to the holiday spirit too!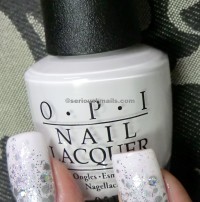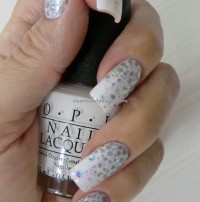 HMMMM, I wonder what this would look like on toes?