Oh how much fun we had last night at the launch of Claude Baruk's newest salon at the Encore in Las Vegas.
The space itself is stunning. Beautiful and classy colors soothe the audience. The salon has hair designers, manicurists and make up artists to help you look and feel your best while in Las Vegas.
The Spa (located on the same level – the second floor – as the Salon) offers all other amenities to help you relax and renew yourself.
There is plenty of space with 6 pedicure stations, 6 manicure stations, 8 hair styling stations up front and 2 dedicated make-up stations in the front salon as well.
The room that houses the wash stations also has the clean and classy lines as the main salon.
And the wash basins themselves are incredibly comfortable. There are more styling stations beside the wash area as well.
We were offered cocktails to enjoy while we received hand and arm massages with paraffin treatments. Appie's were also served butler style.
My lovey manicurist, Lydia, told me she loves working at the salon. It has approximately 50 employees while its sister salon at Wynn has about 40.
They do manicures, pedicures, gel color, as well as acrylic and gel enhancements. They use professional products from OPI, Ahava and Moroccan Oil (mani/pedi), Young Nails. They use Butter London lacquers as well as OPI and Essie.
Hair stylists were busy giving wash/blow dry/styling to the attendees. The Salons professional color line is Loreal Professionel from Paris while Kerastase is used for giving that beautiful shine and nourishment to your hair. Morocan Oil is also used at the Salon.
Sassy Sara was so sweet as to wash and blow out my hair for me. She is a lovely gal who is sincerely interested in your hair care needs. AND, she gives the best head massage!  Thank you Sara!
Make Up artists were on hand to give the ladies a glam look for the evening. They incorporated many make up lines and airbrushing as well. Lash extensions were applied for that extra touch!
And they have Laura Mercier make-up for retail. As well as Ahava skin care.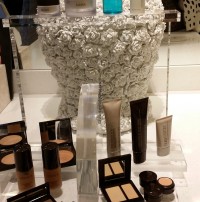 Stephanie Finch, Make Up artists, offers a service for helping you use your own make up correctly. You simply bring all your goodies in to her and she will go through them and help you use them to acquire the desired results. Whether it's for a glam evening out or for your every day wear.
Andrea Wynn introduced Mr Baruk to the attendees and he told us how happy he is to be living here in Las Vegas with his family. And how coming to America has always been a dream of his (He was in St. Tropez)
Steve Wynn joined the party a little later to congratulate one of the newest member of the Wynn Family.
We got to personally meet Claude. He is genuinely kind and gentle and is so happy to be here with his family. His beautiful wife is beside Andrea Wynn in this photo.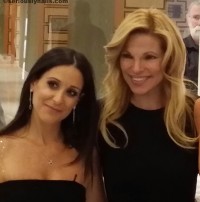 My beautiful friend, Alene, with Claude!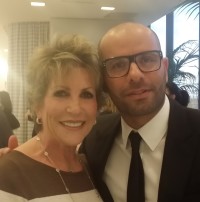 Some more of the lovely gals that work at Claude Baruk Salon.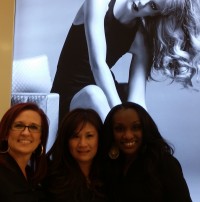 And when the evening was over, they gave us a beautiful bag full of goodies to take as a token from the night.
First of all the bag from Wynn itself is pretty! But the goodies inside made me (and my face, body and hair) very happy!
Inside the bag was samples from Morocanoil in body scrub and butter as well as Morocanoil hair treatment in regular and light formulas.  A Invisible Texturizing Powder for your face from She Uemura and a bottle of Touche Perfection Replenishing Balm for dry ends from Kerastase