I had this fabulous idea for Halloween nail art! I did all the research and figured out what colors I needed for the base, what I needed to draw the art, how to add color and finish them…..
Sounds great right????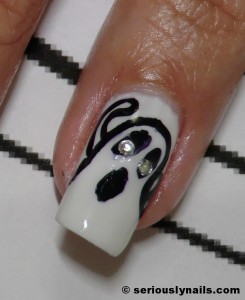 Except they didn't look so good on the nails. In fact, the recipient very kindly accepted them, but I could tell that she wasn't happy!
As a professional nail technician, I didn't feel that I could let her live with them. So I called her and asked her if they had grown on her like she suggested they might.
Very sweetly she said that she like one of them!!!! LOL
Anyways, as luck would have it, she was able to come back to let me make amends!
Version one went like this!
I used OPI  Gel Color "Alpine Snow" as a base color (OPI Gel Base Coat first with a 30 sec cure), the I actually used a Sharpie, Yes, a Sharpie, to draw on her Gel Color. I had removed the moist surface residue first. It worked really well, except the Sharpie had to be exchanged a lot as it would dry out while I was working!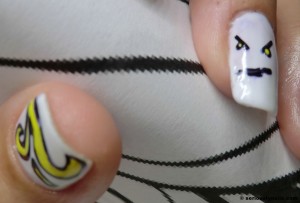 And then I added some acrylic paint for color! Finished with OPI Gel Color Top Coat!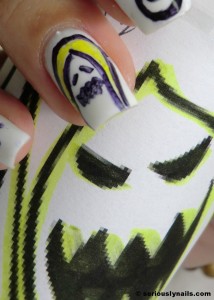 I have to admit, on paper they looked really good! Not so much on her really pretty nails….
So, Ambrosia came back today and we re-did them…. I am really happy that we got the chance to change them for her.
Version two went like this:
I applied two coats OPI Gel Color "Black Onyx" over a cured coat of Base Coat by OPI Gel Color, then sealed them with the top coat. Once I removed the moist surface residue, I got down to business!
I used Salon Perfect "Traffic Cone" A very vibrant and neon orange!!!! With my trusty stylus, I made swirls and dots. Without a real plan, I tried to have fluidity with the orange to gently define a smile line.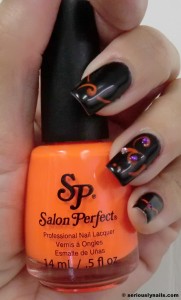 One of them looked like a toothy smile so I made "Googlie Eyes" with that one.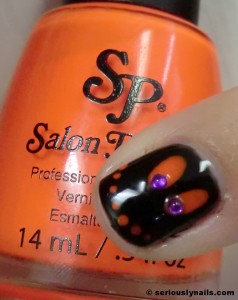 Ambrosia liked the purple rhinestones so I added some of them to her nails. Including them for eyeballs on the pointer finger!
One of the spooky side effects of the Salon Perfect "Traffic Cone" color is that when I applied the OPI Gel Color Top Coat over the art to seal it in, and had her cure her fingers, the orange color GLOWED like crazy in the light!!!!!!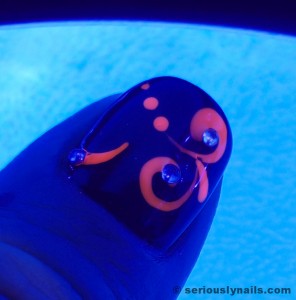 Spooky right?!?!?!?!?!?!?
I like the idea of being able to draw with the Sharpie. I will do some more research and see what I can come up with!!!!