Just such a great name for this new lacquer line that I saw (and got a sample of while at Cosmoprof NA this year)
Historically rich in culture and especially in fashion, Italy brings us some of the most fashionable products. Now including lacquer.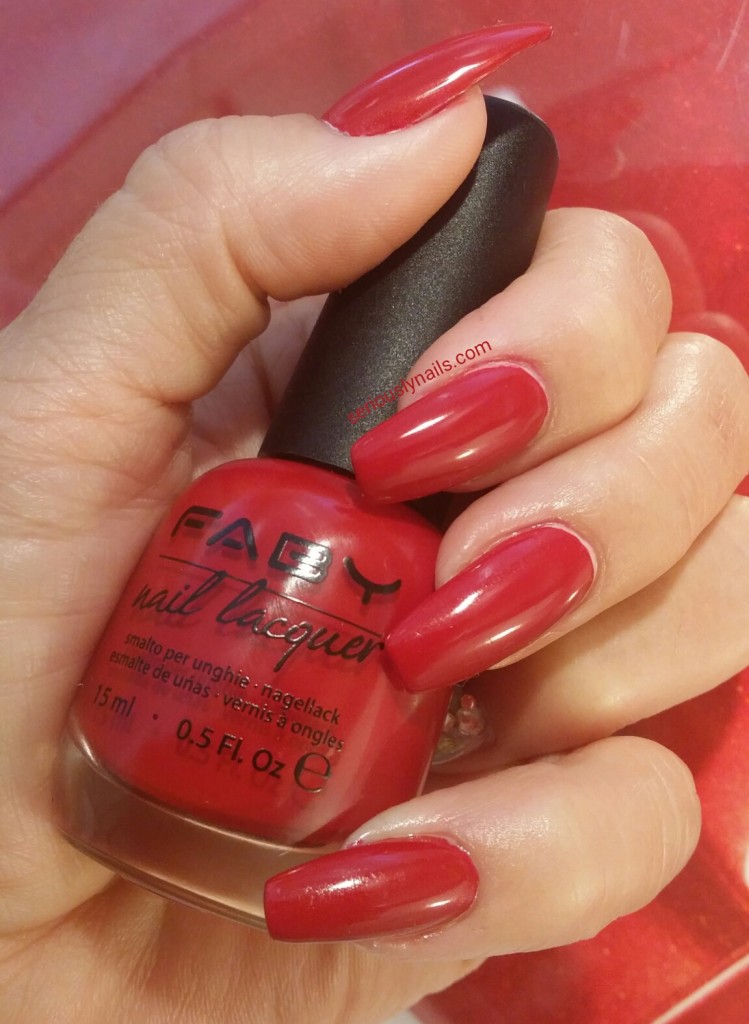 Faby was founded in Vercelli, Italy by a family with over 30 years of experience in the beauty industry. Reaching into their roots of fashion, style, beauty and culture, Faby Nail Couture gives us rich, color dense selections with wonderful formulation for fast drying, highly pigmented lacquers.
I received the most glorious deep rich red called (of course) "Faby's Red".
First things first, the bottle is nicely designed. The bottle fits nicely in your hand. I'm one of those tech's that likes to hold my bottle while I polish!
The brush is thin and flattens out perfectly as well. You can get it close to the cuticle because it isn't too fat.
The formula is PERFECT. The first coat gives such a nice coverage that you almost think "do I need a second coat?"
I did two coats and I am glad I did because the finished product is like opaque glass. And look at the shine even without top coat!
The dry time is very good and durability is good as well. I went on to type this blog about 1/2 a hour after application! Then, I took the pictures! WOW!!!!
Faby Nail Couture has 175 hues created with Italian passion that allows each color to "tell a story".
The collections are the Fabulous Faby Collection, the Eclectic Collection and the Renaissance Collection.
Faby also carries a complete line of nail care products and a tool line.
You can find more information about Faby Nail Couture at www.fabyusa.com or on Facebook at https://www.facebook.com/FABYUSA
You can also call them at 1*877*898*0055