So, last week I received my second "Black Box" from Cult Cosmetics. The colors were definately fall colors but they didn't strike me as Christmas-y!
I will be honest and tell you that I got the inspiration for this Christmas nail art from a Christmas card that was sent to us.
I was very surprised by how well the colors worked in the holiday theme.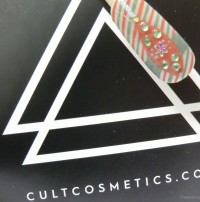 Step 1. Apply two coats of OPI's "Bubble Bath" for the base.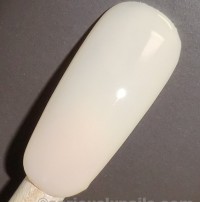 Step 2. Line the nail with nail art stripping tape.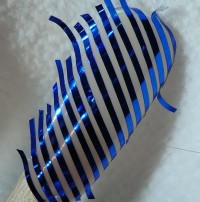 Step 3. Using a small thin art brush paint alternate areas with Cults "Rose Bowl".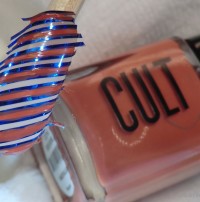 Step 4. Paint alternating areas with Cult's "Runyon". Allow to dry completely.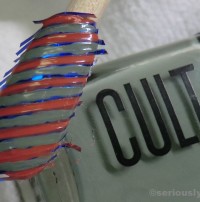 Step 5. Remove tape from nail.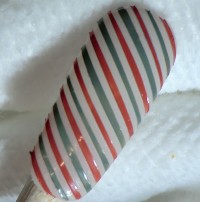 Step 6. Apply painters tape to the bottom portion of the nail to mark off area where a large stripe of green will be.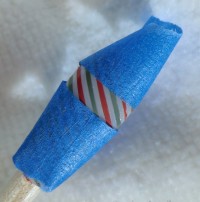 Step 7. Apply "Runyon" to that area.
Step 8. Once the green has dried, use "Rose Bowl" and a small pointed nail art brush to form a tear drop shape to the nail. While that is still sticky apply any type of sparkly nail jewels.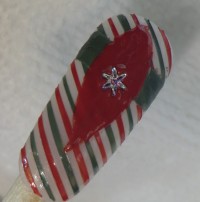 Step 9. I added some green stones to accent the green in the nail polish.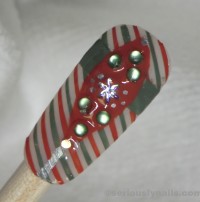 Finish with top coat and let dry!
I really liked it with just the stripping on it as well.  And I suppose that I could have used some green stripping tape for the 'string that holds the ornament'. But, hey, that's what makes nail art fun. You can play and play and play.
I hope you are enjoying all the Christmas art that I have been posting. I'm kinda addicted to it right now! It's making me very excited for Christmas.