How many of you have chased crystals to pick them up? Who has been witness to the "lick & stick" method of applying crystals or charms? (So professional right?!?!?!)
Well, Kellie DeFries, The Crystal Ninja & Authorized Swarovski Instructor, has a invention that will make your nail art crystal placement so easy. And your craft projects too.
Having set literally 1000's of crystal, Kellie figured out the perfect tool for picking up and placing crystals.
Here is her invention. The Crystal Katana!!!!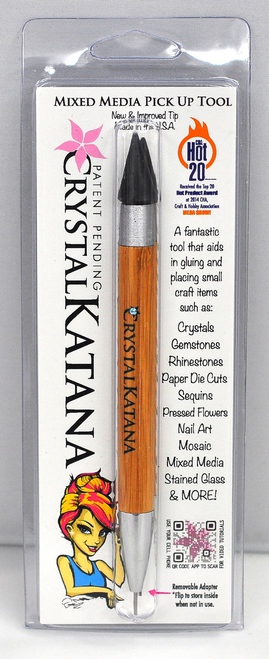 Use the patent pending rubbery end to pickup your crystal or charm, flip the Katana around to use the metal end to place it in the perfect spot! (Trust me, use the metal end. I ruined one of my Katana's by getting gel on it and letting it cure…eeekkk)
You can find them in my store at http://www.seriously-nails.myshopify.com
I am having a incredible sale on them right now too!!!!
Follow Kellie on her Instagram account to find out more of her amazing products and see the fantastic job she does making the world a lot more sparkly!