What are Nail Eyes? Do you know where to find your Nail Eyes?
Well, in my opinion, Nail Eyes are your ability to see artistic impressions that can be translated and then used in nail art!
Do you want to find your Nail Eyes? Well, Holly Schippers (Nail Eyes originator) Fingernail Fixer and CND educator/ambassador is joining forces with Associated Nail Professionals to give us a FREE webinar on how to create nail designs on demand.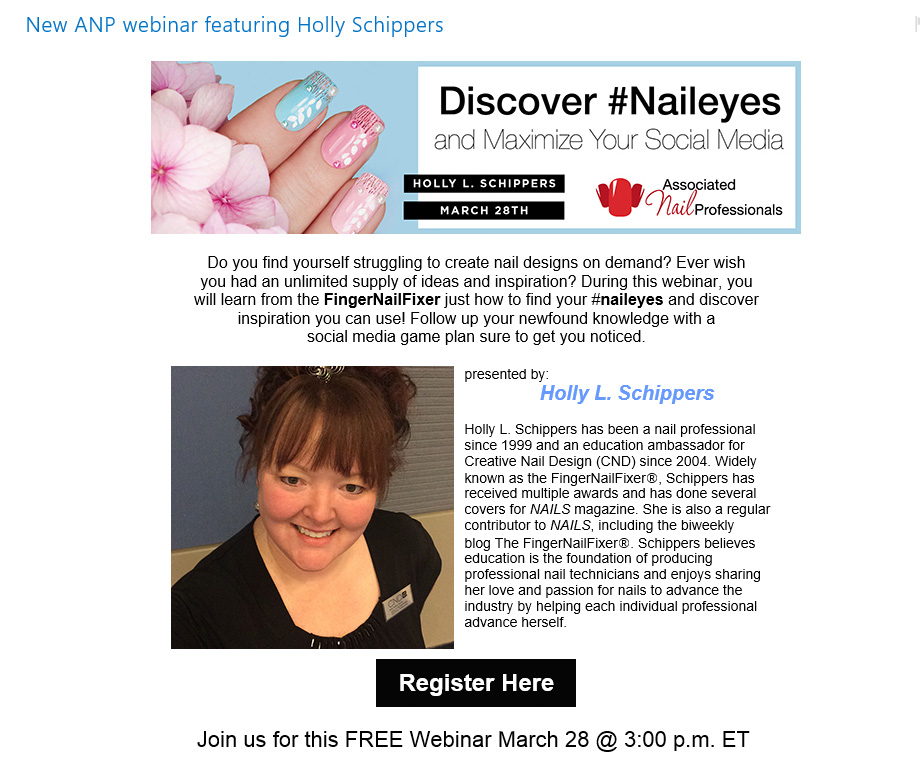 Here's some information on Holly so you can see the benefits of joining this webinar. I took this from the small print on the picture above! Yes, I need new glasses!
Holly L. Schippers has been a nail professional since 1999 and an education ambassador for Creative Nail Design (CND) since 2004. Widely known as the FingerNailFixer®, Schippers has received multiple awards and has done several covers for NAILS magazine. She is also a regular contributor to NAILS, including the biweekly blog The FingerNailFixer®. Schippers believes education is the foundation of producing professional nail technicians and enjoys sharing her love and passion for nails to advance the industry by helping each individual professional advance herself.
It also looks like she will be touching base on social media and a game plan to help us get noticed!
I am happy to say that I have signed up for the webinar that is on March 28, 2016 and you can too at https://attendee.gotowebinar.com/register/2938151628917228803?source=nails
The site lets you add your time zone to see if it will work for where you are living/working too.
Are you ready to find your #naileyes???? See you there!!!!