OK, I admit it! I am a junkie when it comes to things for nail art! I found this kit at the local Cosmoprof. It is from Young Nails who are based out of Anaheim California.
This product came in a kit that was on promo for the holidays. I, of course, love anything shiny so I couldn't resist!
Here is a picture and description from their website.
www.youngnails.com
The Celebrate KitWhen the end of the year rolls around, we've got nothing on our minds but the word: Celebrate. That's why we've created a super fun party inspired bundle of glitters that will make sure the party goes on and on. The limited edition boxed kit includes:Royal Red Glitter
Emerald Green Glitter
Rock Star Glitter
Hologram Glitter
Shimmering Sand Glitter
Gold Foil
Instruction DVD showcasing designs in acrylic, gel, and mani Q.
It was such a fun kit to play with. My friend, Janice, wanted a quick change before she went away for the holidays so I put OPI "Bubble Bath" Gel Color on her. ( With Base and Top Coat of course)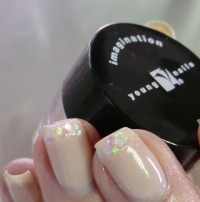 Next I put a coat of No Cleanse UV Top Sealer by OPI just on the tips like I would do for a french manicure. Before curing this, I dipped her finger into the pot of iridescent pinkish sparkly "Rock Star" glitter from Young Nails. You just have to make sure that you pat down the glitter or your nails will be rough where the sparkle is.
Once I cured them for two minutes, I applied a coat of the No Cleanse Top Sealer over her whole nail and cure for two more minutes. NICE! No wiping or cleaning. Just cuticle oil and "BYE Janice, have fun on your Christmas holiday!"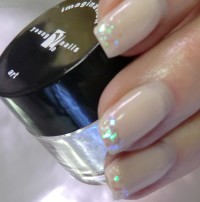 As you can tell, they have grown out a bit, but you get the idea. This actually shows one of the reason I like Bubble Bath from OPI. It is neutral enough not to be glaring as your nails grow out.