This lovely gal was having lunch beside us the other day and let me take this shot to share with you.
She has a salon she goes to that gives her super glittery nails! I love anything sparkly so I wanted to share.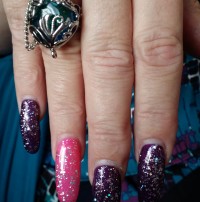 Also, check out her ring. It is actually a perfume dispenser! The top pops off and you can freshen up anytime!