Finally, I found a perfect perfect polish to help me with stamping.
I simply could not get the whole stamping thing down. Now some people like Nail Stamp Fanatic are fabulous at it. And she even gave me a great suggestions when I was first struggling.
See older blog post at http://seriouslynails.com/?p=652
But still I was not doing it right. Then I read somewhere that Mentality Nail Polish out of California made special stamping polishes. So I took a chance and order them.
Finally, I got around to using one of them. Here is my stamping plate.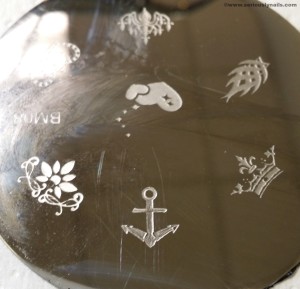 And, YES, I finally can stamp on nail art! WOOP WOOP!
The consistency is thicker than normal polish but in a good way. Not cakey like when your polish dries out. Fluid, more like runny fudge mixture. (Sorry for the bad analogy!)
LOVE is all I can say!
You can order online and they have free domestic shipping in the USA.