For anyone who loves to do nail art and is using a lot of different colors, I saw this great tool for making life easier.
This tool was actually designed by the brother of one of the gals I met at the ISSE Long Beach Show.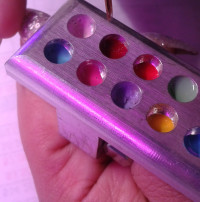 His field of expertise is in metal work. And since his sister is a amazing nail artist, he designed this to make her artistic life easier.
The idea is that you can have all your colors, literally, at your fingertips.
At this time, the sizing is for large and small fingers, but they are in the process of making a adjustable ring for it.
The cost is only $30. It is metal for easy cleaning and it is light on your finger.
The name of the  metal artist for this ring is Tony Esquuivel and interested parties can contact his sister.
Contact information is Adela Munoz at 909-941-1403.
Email artistic91730@yahoo.com