My friend, Alene, took me to the I-Heart Radio Music Festival in Las Vegas last weekend (OH what fun we had!!!!)
I saw these shoes while we were there and I just fell in love with them. I thought they would look amazing on a nail.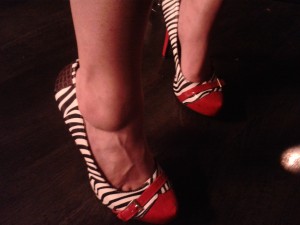 Unfortunately, I am terrible at making Zebra stripes.
So that idea went out the window.
But then yesterday I thought (for some unknown reason) that maybe I could use the edge of a business card to create a clean solid line.
So, I got the acrylic paint, a business card, some sparkly clear coat. Then a orange wood stick and my trusty stylus. (Just in case I needed them!)
First though, I applied 2 coats of Lacqit "It's A White Out" as a base.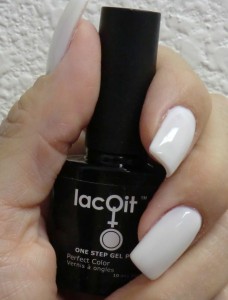 Because Lacqit cures in a LED light in 1.5 minutes for two coats, I quickly moved on to the next step. I simply dipped the edge of the card into the paint and pulled it through. Then starting at one corner, rolled the card across my nail!
Although it didn't create the clean straight line I was looking for,I was so excited because it started to look like a zebra!
I just kept dipping and rolling and suddenly….I have a Zebra stripe nail.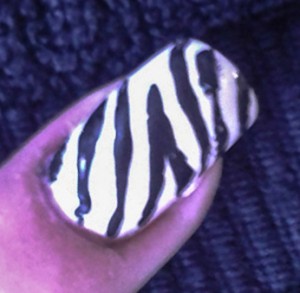 I used the edge of the orange wood stick dipped in black acrylic paint to fill in the space near the edge of my nail where it meets the cuticle. And to detail the Zebra stripes.
Of course I needed to seal the nail to make sure the acrylic paint doesn't come off. I decided to give the nail a little bling so I sealed it with Sinful Colors "Queen of Beauty". It is a sparkly clear coat that gave it just a bit of glamour!
It looks good but maybe there is a little something missing!
Stay tuned. It could be even better in the next couple of days!
Happy "Hump" Day!