Velvet Lip Cream by Bonita Cosmetics, based out of California, is a moderately priced lip cream (applies like gloss with a wand and dries to a lip stick consistency)
I picked this one up while at Cosmoprof NA recently. It was available at the Boutique section of the show. I picked it as one of my seven products to take home and test out.
I liked the color of the lip cream at first glance. I tend to go to nude colors for some reason.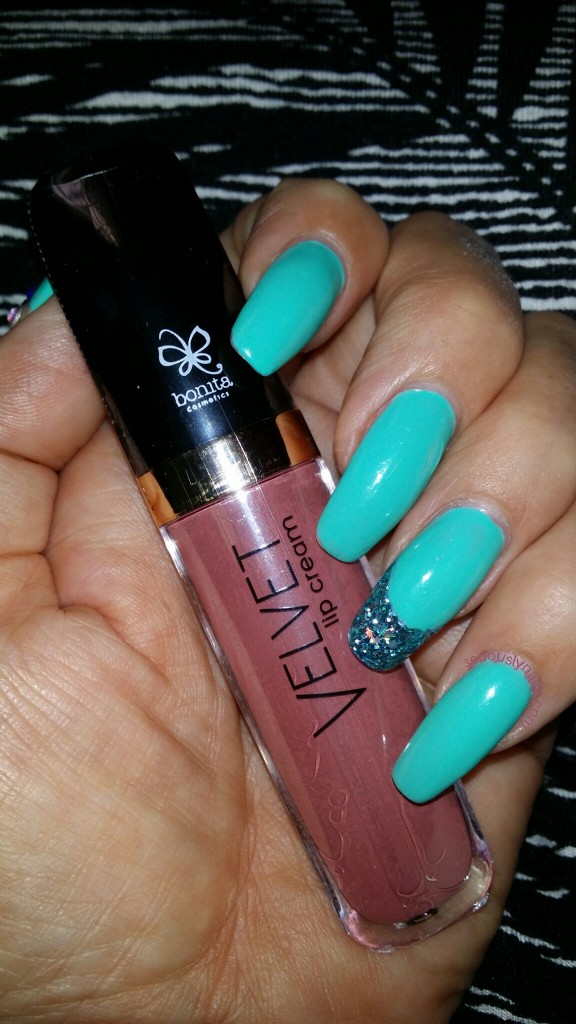 Maybe because my nails are usually really bright and sparkly! LOL
As the name states, this is really a cream lip color. Even though it goes on like a gloss and looks and feels wet for a little while, it does change consistency and becomes this really pretty satiny looking color on your lips.
Here is a swatch on my hand to show you the pretty color.
The wear of this lip cream is quite good. I would say with drinking coffee and snacking at work, it stayed nicely for 4 hours!
You can purchase these online for $2.99. I know right!!! There are eight colors to choose from.
From left to right in the little squares are as follows:
Lady VaVoom, Sweet Nothings, Barbies Muse (pictured in the center), Natural Beauty, Hat Damn, and Nude Indulgences
This link will take you directly to the Lip Cream page, but look around the sight for some other interesting and moderately priced products. http://www.bonitacolors.com/bonita-lips/19-velvet-lip-cream.html
Plus, shipping is free over $30!!!!