The new fall colors from OPI in their Infinite Shine collection are out in stores now.
These are the perfect colors to transition from summer to the cooler winter nights, no matter your skin tone.
From pretty nudes to refreshing pinks and berry colors as well as warm coffee and rich burgundies, this collection has it all for the fall season.
Infinite Shine is a hybrid gel like polish that you apply like regular nail polish and remove like regular polish. What's the difference? The special base and top coats give these the wear-ability and super glossy shine of gel polish. The colors last up to 10 days and comes off like a dream.
So here are your colors!

My favorite of these six is #2, Glow the Extra Mile. It actually has tiny tiny flecks of pink in it. Now any one who knows me knows I am not a pink girl so it's shocking that I like this one!
I am also very happy to see some sparkle and glitter in the Infinite Shine collection as most of them are lovely creams. But, hey, a girl needs a little sparkle now and then!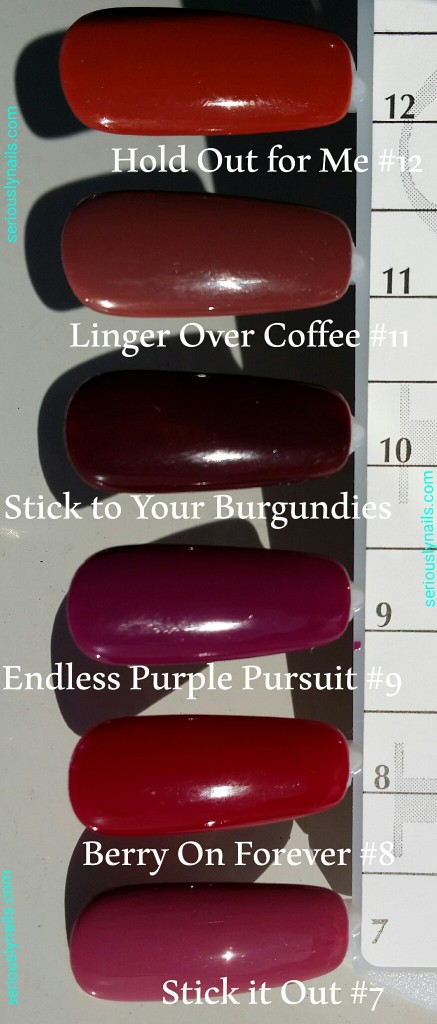 And my favorite in these six is, #9 Endless Purple Pursuit.
All of the colors have very good coverage on the first coat. As you can see.
Like I said, there is a shade in this collection for any one. Which is YOUR favorite?
Available at authorized distributors, and retail locations near you such as Macy's & Ulta.
More color selection at www.opi.com