I ws gifted this little package of wondrously luxurious feeling, delicious smelling, quick acting, all in one single use pedicure system last month.
New from Morgan Taylor, these pedicure sets contain four individual packets filled with the perfect amount of soak, masque, salt scrub and massage butter.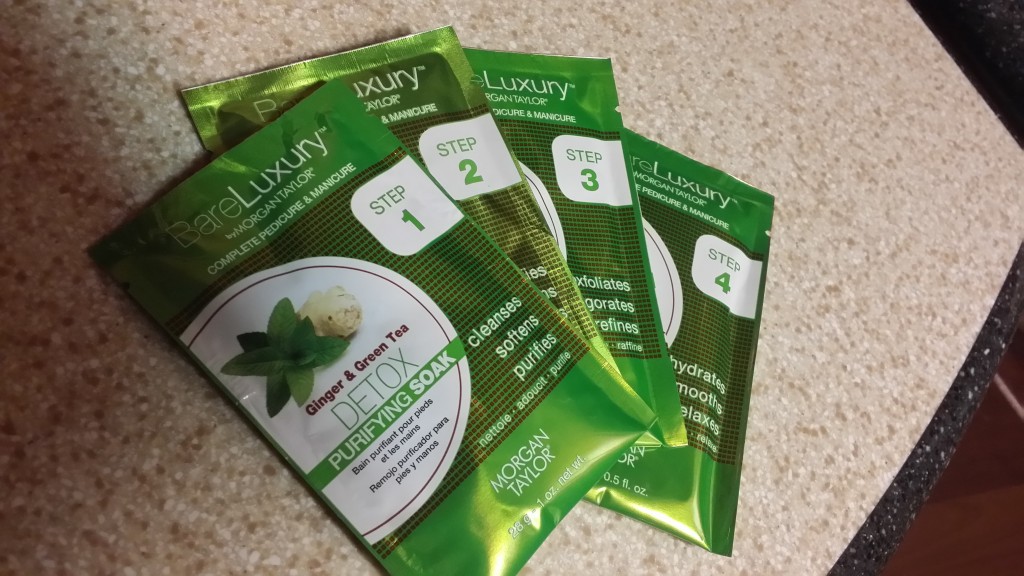 The scents alone is worth the slightly higher cost of product. If you are feeling uneasy about spending more than normal for your pedicure costs, take into consideration the fact that the portion control is taken care of for you.  No more exuberant staff members over using products. Plus they are packaged for individual use, so they are sanitary.
Then there are the benefits of customizing your pedicures to each client. Ask them what they feel like that day. Do they need to unwind or rewind?
Unwinding? Are you stressed out or out of balance. They have the answer for those ailments with Lavender and Sage extracts to soothe you or Seaberry and Kukui to refresh you and realign you.
If your client needs a pick up, let them enjoy a invigorating pedicure with Orange and Lemongrass pedi. Or a Ginger and Green Tea pedi to help them recover from a hard week on their feet.
I love the whole concept, and with each of these being chock full of nutrient rich ingredients in a easy to use customized pedi for your clients, you cant really lose. Plus you get to smell and enjoy vicariously, each and every pedi you do!
Available at authorized distributors.